Where: Australian Design Centre, 101 - 115 William St, Darlinghurst NSW 2010
When: Thursday 9 June, 6-8pm
Hugo Gruzman × Kyoko Hashimoto - with Ebony Satchwell
Contemporary jeweller Kyoko Hashimoto repairs and transforms two broken model aeroplanes from musician Hugo Gruzman of Flight Facilities, one of them being a scale model of a Cessna 310 belonging to Hugo's grandfather, air-sea rescue inventor Laurie Gruzman, a formative influence on the name and concept of Hugo's band. In collaboration with Australian-born, Texas-based visual artist Ebony Fleur, a 3D animated version of the model aeroplane in flight was also created and minted as an NFT. Rounding off her transformative repairs, Kyoko transformed the second model, a Qantas 747, the "Queen of Skies", into the zenith of jewellery typologies: a crown.
Promoting the value of reuse and repair:
On Thursday 9 June 2022 Australian Design Centre will host an auction of creatively repaired broken objects. A selection of emerging and leading Australian artists, designers and craftspeople were commissioned to reinterpret these objects using innovative approaches to repair and reuse. The objects were provided by notable climate change activists, creatives and champions of design from Sydney and the Illawarra.
From 2 - 10 June 2022 this exciting and eclectic mix of objects will be on display at the Australian Design Centre.
Contributors:
Hugo Gruzman × Kyoko Hashimoto - with Ebony Satchwell
Tim Flannery × Illiam Nargoodah
Edra & The Campana Brothers × Adam Goodrum
Bianca Spender × Lucy McRae
Sally Dan-Cuthbert × Liz Williamson - with Tulla Carlson
Yael Stone × David Caon
Lead Research Investigators, Guy Keulemans and Trent Jansen developed the project to test new models for the sustainable use of materials and products and establish new opportunities for consumers and collectors to thoughtfully repair their broken things. With the aim to expand the market and value of transformative practice, this project imagines a more sustainable design future.
LOT 5 - for Auction
Kyoko Hashimoto
Transformed model Qantas Boeing 747 'Queen of the skies', 2022
185 x 185 x 70 mm
Estimate: $2,700 - $5,000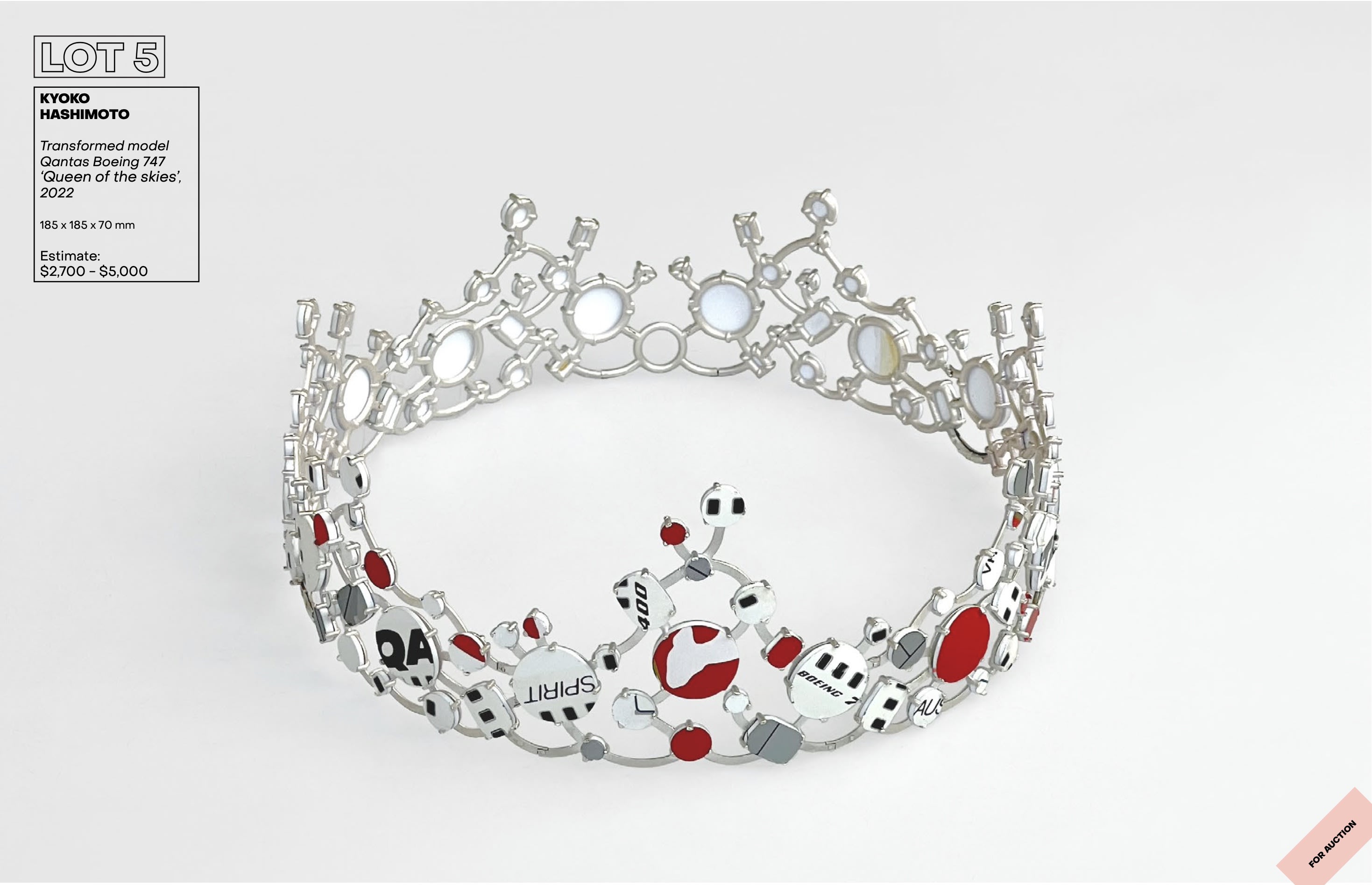 Associated Event:
Transformative Repair x ADC: Floor Talk
Join us to preview the auction items for a Floor Talk with the curators and designers.
When: Saturday 4 June, 2-3pm
Where: Australian Design Centre
May 31, 2022