When Arthur and Yvonne Boyd gave their Shoalhaven property, Bundanon, to the nation in 1993, the federal government was reluctant to accept the gift. Rather than a valuable cultural asset, it must have seemed as if the Boyds were off-loading an expensive liability in a remote location. Almost 30 years later, with funding from federal and state governments and the private sector,
Bundanon has finally realised the potential that was latent in the original bequest. In January, the new Bundanon was unveiled with great fanfare. I first saw the property when the Boyds were still in residence, but it's been a long time since my last visit. The changes are impressive and far-reaching, with new buildings, new administration, new programs and facilities. When Rachel Kent left her post as senior curator at the Museum of Contemporary Art last year to become chief executive of Bundanon, it seemed a startling career choice. After a couple of days there, I understand completely.
During the past three decades, we have gradually come to accept that a major cultural institution does not have to be in a capital city. Audiences today are willing to travel to the regions, enjoying the environment and, in many cases, a break from the urban grind. The new Bundanon has been designed to exploit that willingness, with accommodation packages, and an excellent eatery - the Ramox Cafe, named after an imaginary beast created by Arthur Boyd.
Situated in bushland outside Nowra, the property has been menaced by both fire and flood. In 2019, the bushfires came perilously close, and the recent downpours have left their mark as well. This meant that any new buildings had to be able to withstand extreme conditions and architect Kerstin Thompson has delivered the goods. The Bundanon Art Museum is fortress-like, built into the side of a grassy hill, with thick concrete walls that render it virtually fire-proof, with spacious, well-lit exhibition areas.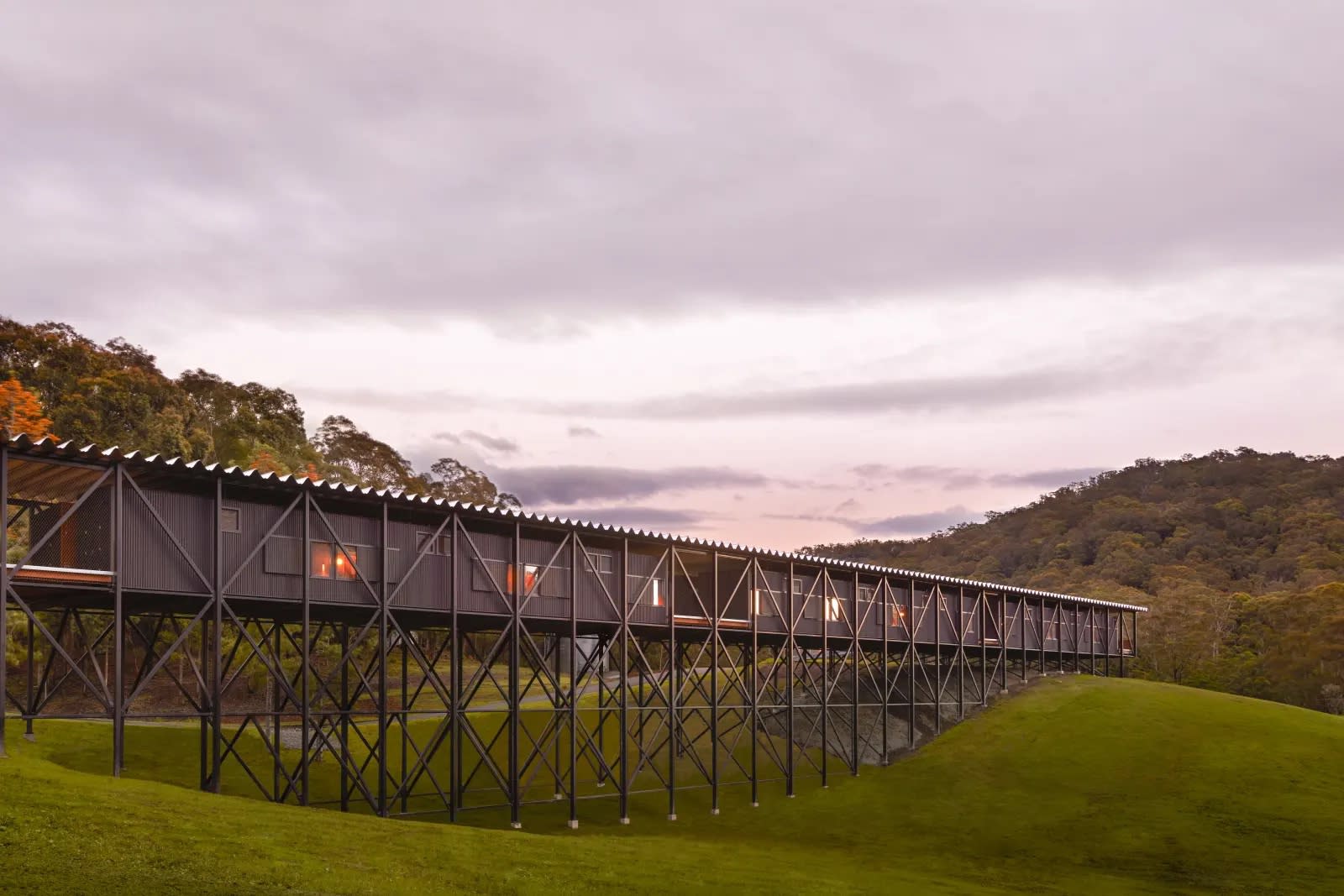 The Bridge for Creative Learning, which shoots away from the museum at a perpendicular angle, is a versatile, 160-metre-long structure that contains the cafe, dining and meeting areas, along with two rows of simple, stylish bedrooms. The Bridge looks as if it were inspired by a Hokusai print, but it's extremely practical. During recent rains, when water came pouring down from the slopes surrounding the site, the torrents passed harmlessly underneath.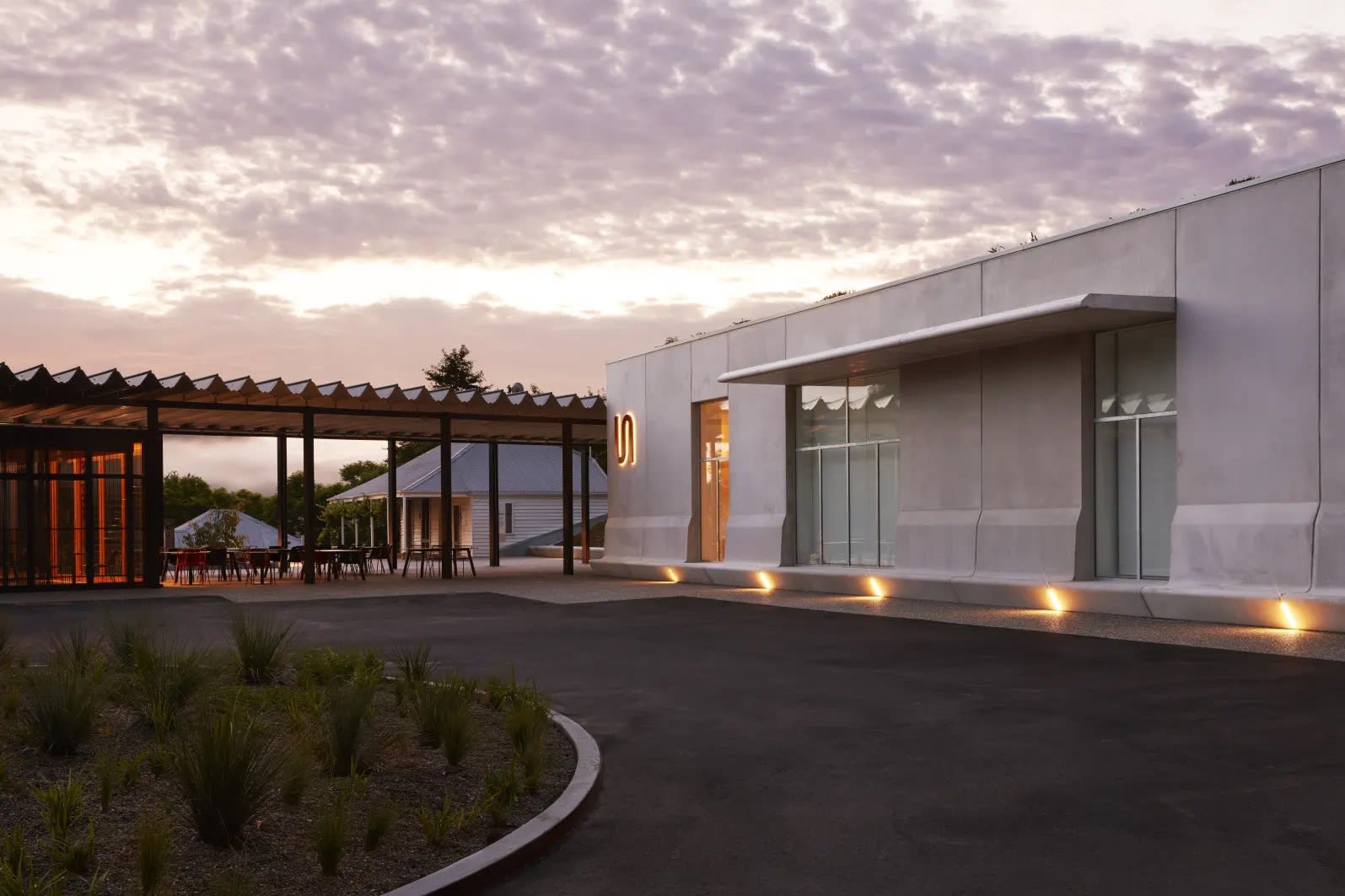 I hope this doesn't sound too much like a tourist brochure, but Bundanon has been so well-thought-out that it makes some larger art institutions look like bundles of confusion. There has been a big effort to connect with local Indigenous communities and to incorporate them into exhibitions and programs. The site is a model of sustainability that takes special account of the environment and the wildlife. There is a sensible balance between educational and commercial activities. Finally, in Rachel Kent, and chief curator, Sophie O'Brien, there is more international experience than in an entire department of most Australian public galleries.
The first exhibition at the Bundanon Museum is From Impulse to Action, which puts a particular aspect of Arthur Boyd's work alongside twelve new commissions by a group of artists: Dean Cross, Rochelle Haley, Tina Havelock Stevens, Kate Jones, Jo Lloyd, Emily Parsons-Lord, Izabela Pluta, Uncle Steve Russell & Auntie Phyllis Stewart, Skye Saxon, Vivian Cooper Smith, Shan Turner-Carroll, and Kaitlen Wellington.
The show takes its lead from the costume and set designs Boyd created in 1963, for Robert Helpmann's production of Elektra, for the Royal Ballet, Covent Garden. In Greek mythology, Elektra was the daughter of Agamemnon and Clytemnestra. She was expelled from the palace and married off to a commoner because of her hatred of the Queen and her lover who murdered the King upon his return from the Trojan War and usurped the throne.
Elektra encourages her brother, Orestes, to kill Clytemnestra, which he does, ensuring his own persecution by three supernatural keepers of the law, the Furies. As told by Aeschylus it's a wild tale, in which Elektra comes across as grief-stricken, vengeful, possibly unhinged. What the Greeks may have seen as the nobility of her character can seem arrogant or hysterical to contemporary audiences. This must have appealed to that feral streak in Boyd's own artistic personality which led him to paint so many strange, visionary images. In later years, these works were overshadowed by a long procession of Shoalhaven landscapes, many of them showing the dullness born of over-production.
The dark side of Boyd's œuvre may be found in those drawings and paintings that feature figures from the Old Testament or classical mythology – even beings of his invention. The Ramox is an Antipodean cousin of Picasso's motif of the Minotaur. If the half-man, half-bull has been interpreted as Picasso's partial self-portrait, one wonders to what extent Boyd identified with the Ramox, a more purely animalistic proposition.
In basing this inaugural exhibition on Boyd's designs for Elektra, Sophie O'Brien has begun on a bold note. It would have far been easier to start with Shoalhaven landscapes supplemented by similar works by other artists. Instead, she has jumped into the deep end with a series of expressive drawings in which bodies seem to have been torn apart and reassembled in bizarre new forms. In these works, torsos become faces – or vice-versa – with one piece featuring a snake that wraps around a body, its head ending at the figure's crotch. The psychological force and anxiety of both male and female sexuality are combined within a single image.
Boyd's designs proved controversial in their use of sexuality (and pubic hair) and were toned down when the ballet went on tour. One gets a passing sense of the impact of these designs from Jo Lloyd's Death Role, which consists of a seven-metre-high reproduction of Boyd's Double Figure with Shark Head and Horns, and a video of the artist performing her version of Elektra, in a costume that obscures her face but sprouts strands of hair.
Lloyd's work, which combines drawing with performance and music, is perhaps the best example of the multimedia approach O'Brien has encouraged. The curator has taken the act of drawing as a fast track to the artist's subconscious, as demonstrated by the spontaneous, unpredictable nature of Boyd's graphics. She suggests the "impulse" that gives rise to drawing can also find expression in many other forms. One could, for instance, see improvisation in dance and music as a form of "drawing".
The show is underpinned by these intricate associations of ideas that have resulted in new works that range across many fields. The trick is to take these heterogeneous components and meld them into an exhibition in which one may trace relationships between individual pieces and Boyd's images. Sometimes it seems as if the real connection is with Bundanon – the property, the environment, the creative possibilities it has allowed for artists, writers, potters, musicians, dancers, and so on.
The result is an adventurous, experimental show that possibly bites off more than it can chew. From Impulse to Action makes a positive first impression but on reflection, it seemed as if coherence had been sacrificed in a heroic effort to cover every possible base. To explain the connections between individual works and Boyd's ballet designs, or Bundanon in general, would require a lot more words than I have to spare. What the show makes clear is that the Bundanon Art Museum is ambitious in its aspirations and won't be settling for a quiet life in the country.
From Impulse to Action is at the Bundanon Art Museum until June 12.