With the recent arrival of Suzanne Cotter at Svdnev's Museum of Contemporarv Art. Jane Albert talks to a growing powerhouse of new female gallery and museum directors enriching the nation's cultural landscape.
Spending an hour in the company of Suzanne Cotter, the new boss of the Museum of Contemporary Art (MCA) in Sydney, elicits an unexpected response. Here is a highly experienced international director who left Australia 33 years ago and has livod and worked in some of the world's most desirable cities and cultural institutions. And yet to hear Cotter explain why she gave up all that those cultural capitals embodied to return her native Australia provokes a glow of pride in both Sydney and the nation's cultural landscape. "Coming from abroad having lived in Paris, London, New York as well as Porto, some of the great capitals of the western world, I feel Sydney has as much to offer," she says. "It's physically beautiful, the cultural diversitv of the citv is compelling and inspiring, it has amazing institutions, beautitul museums. we have the bera House - my god! - you never tire of looking at it but it's also a place of culture that's used and loved. The culture is rich and fantastic and I'm looking forward to connecting with it all. The idea of Sydney as a brash city is urban legend, for me it's a major international city, and that's exciting."

News of Cotter's appointment was highly anticipated, following the announcement the MC's broadly respected longstanding director Elizabeth Ann Macgregor was leaving after 22 years. In fact. Cotter is iust one of a wave of new female gallerv and museum directors. In January, new chief executive officer Rachel Kent threw open the doors of the stunninglv refurbished art museum, creative learning centre and accommodation at Bundanon. 1,100-hectare bushland property on the New South Wales Shoalhaven River that was home to Australian landscape painter Arthur Boyd and his wife Yvonne, then gifted to the public by the artist in 1993. Last May, chief executive Criena Gehrke launched Home of the Arts (HOTA), an arts precinct and gallery on Queensland's Gold Coast; while in 2020, Megan Monte became the inaugural director of Ngununggula, the first regional art gallery in the New South Wales Southern Highlands, which opened in October last year and is housed in a tastefully repurposed milk shed in the National Trust-listed property Retford Park. "Bundanon is a unique cultural and environmental asset, it holds a treasured place in the hearts of Australians, including myself," says Kent, the former chief curator of the MCA and a respected art historian, leader and advocate for contemporary and First Nations art, of the $34 million revitalisation project led by Kerstin Thompson Architects. Embedded within Bundanon's landscape, the new 500-square- metre art museum will feature new commissions alongside exhibitions of modern, contemporary and First Nations art and safely store the precious $46.5 million collection of 1,448 works byBoyd and his contemporaries Sidney Nolan, John Perceval, Joy Hester and Charles Blackman. The inaugural exhibition Impulse to Action features 12 commissions from multi-disciplinary Australian artists including Dean Cross, Tina Havelock Stevens, Emily Parsons-Lord and Aunty Phyllis Stewart.

The powerful voice of Ngununggula gallery founder and local artist Ben Quilty helped make the decades-long dream of the space a reality. Pronounced 'nun-un-goola' ('belonging' in the local Gundungurra language), Ngununggula will host exhibitions, artist-led projects, live events, workshops and public programs. A large-scale installation by artist Megan Cope in collaboration with local Elder Aunty Velma Mulcahy is on display throughout 2022, the first in an annual series of commisions.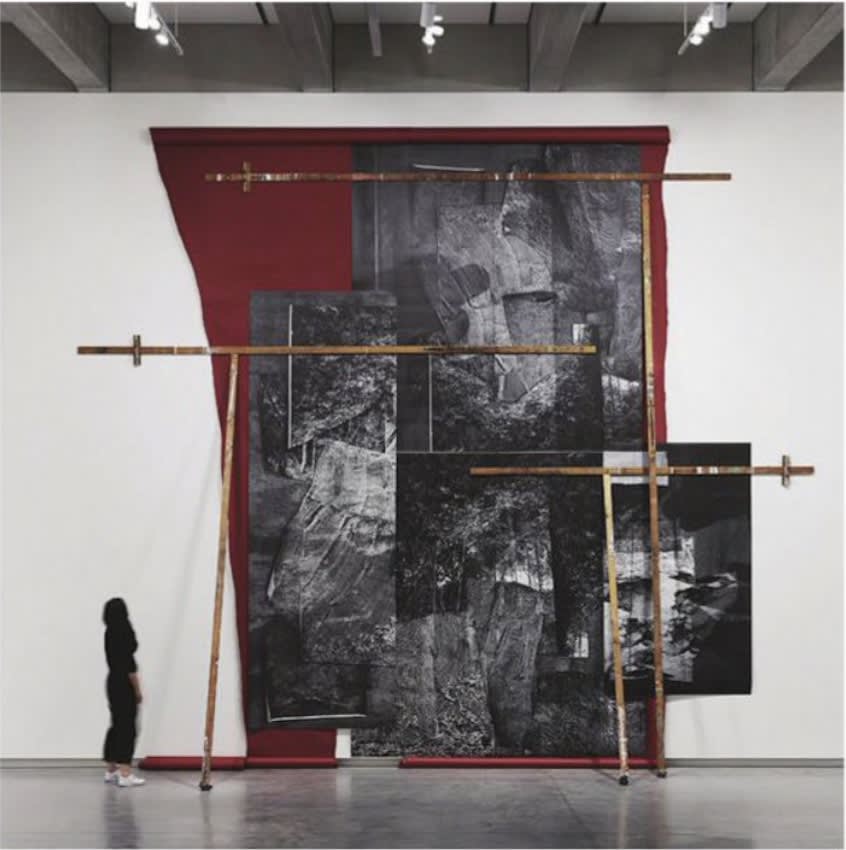 The 2022 program features the National Art School's John Olsen survey exhibition Goya's Dog; and existing works from contemnorary artists and hrothers Andul-Rahman Abdulan and Abdul Abdullah alongside Tracey Moffatt in Land Abound from late May; while Ken Done + Rosie Deacon opens in August. "Our program is about storvtelling, sharing exoeriences andunderstanding perspectives with a sense of scale and ambition," says Monte, the former co-director of Sydney's Cement Fondu. Announcing Cotter's appointment in 2021, MCA chairman Lorraine Tarabay noted she brings "an outstanding network of connections and international best practice in contemoorarv art museum management, programs, thought leadership and curatorial excellence. She is incredibly well placed to advocate for Australian art and artists on the global stage.
In Cotter vou find a humble emotional and academicall intelligent woman who appears eager to learn trom those around her while sharing her own extensive knowledge and experience. Cotter arrives in Sydney from Luxembourg where she spent four years running the Musée d'Art Moderne Grand-Duc Jean (MUDAM) "To be invited to head up a museum of contemporary art in a country [Luxembourg] that recognises culture as a reflection and projection of the identity of that country and to recognise that's so much to do in engaging people in the work of artists living today was very exciting for me," she savs.
"We're living in atime of engagementin terms ofsocial iustice.technologicaland social and environmentalchange and artistsare like ourthermometer of what is happening"
Cotter left Melbourne with her husband in December 1988 to study in Paris and London and found herself swept up in the vibrancy of 1900s London and the Young British Artists. Curatorial gigs at London's Hayward, Whitechapel and Serpentine galleries followed hoforo running Portugal's Museu de Arte Contemporânea, curating the Abu Dhabi Project at Solomon R. Guggenheim Foundation in New York and co-curating the 10th Sharjah Ripnnial in the United Arar Emirates in 2011. Each job she hoped would bring her one step closer to home so when the MCA director role came up it was her chance. "Australia seems verv engaged in culture from peoole from all walks of life, and the artistic and cultural voices of people of Aboriginal and Torres Strait Islander communities has really nourished that immensely. That's incredibly stimulating. These are
conversations and voices we don't have in other parts of the world
and for me that's really compelling.
Cotter is looking forward to discovering who are our most 'urgent artists - and by urgent she doesn't necessarily mean young. "We're living in a time of tremendous engagement in terms of social justice, technological and environmental change, and artists are like our thermometer of what is happening. They express things that are there but are not necessarily at the centre of our visibility. Let's look at the work of artists from Australia in relation to what's happening elsewhere in the world," she says. Cotter appreciates Macgregor's are big shoes to fill - she not only brought the museum back from the brink of bankruptev bul successfully led it to become the world's most visited contemporary art museum - but says she feels empowered by Macgregor's rich legacy. "For a woman of my generation I feel immensely proud to be part of the [women] leading cultural institutions in this country right now. I think it's a sign of how the recognition of the role of women in society has evolved, so it's a very positive thing.