There is a quiet grace imbued within the oeuvre of Adelaide-based artist, Angela Valamanesh. For over 30 years, she has worked across drawing, installation and ceramics, producing exquisitely delicate forms recalling the cellular organisms found within nature and the human body. Circular, smooth or honeycombed, and often small enough to fit neatly in your palm, Valamanesh's forms are both familiar and unfamiliar, appearing as though they balance on the cusp of reality and the imagined world. There is a sense of wonder there too—at the complex beauty of microcosms and the interconnectedness of all living things.
First presented as JamFactory's 2019 Icon exhibition (a series celebrating South Australian artists working in craft-based media), About being here is a retrospective survey tracing Valamanesh's practice from the late 1990s onwards. Brought together by JamFactory curatorial director Margaret Hancock-Davis, the exhibition includes pen and ink drawings, watercolours and ceramics.
Making connections between Valamanesh's early and current practice, Hancock-Davis positions the 1997 work For a Long While There Were Only Plants as a thematic springboard for navigating the exhibition. A mixed media work consisting of numerous anatomy-inspired drawings dipped in wax, and a collection of tooth-like ceramic objects, this piece marks an important shift in Valamanesh's practice: a pivotal point where her creative interest in nature and biology really came to the fore.
Conceived while Valamanesh was completing an MFA at the Glasgow School of Art as part of a Samstag scholarship, For a Long While There Were Only Plants was inspired by a book of human anatomy found in the photography section of the school's library. "It was a textbook for teaching anatomy and I borrowed the book throughout the whole time I was there," Valamanesh reveals. "As a high school student, I was always interested in biology and anatomy is part of that. Using black and white photography, this book showed the inside of the body, what you don't normally see. We are so used to images of people in portraiture, but not so often do we see what's inside of us. Anatomy was really mysterious to me and it was exciting to know more about it."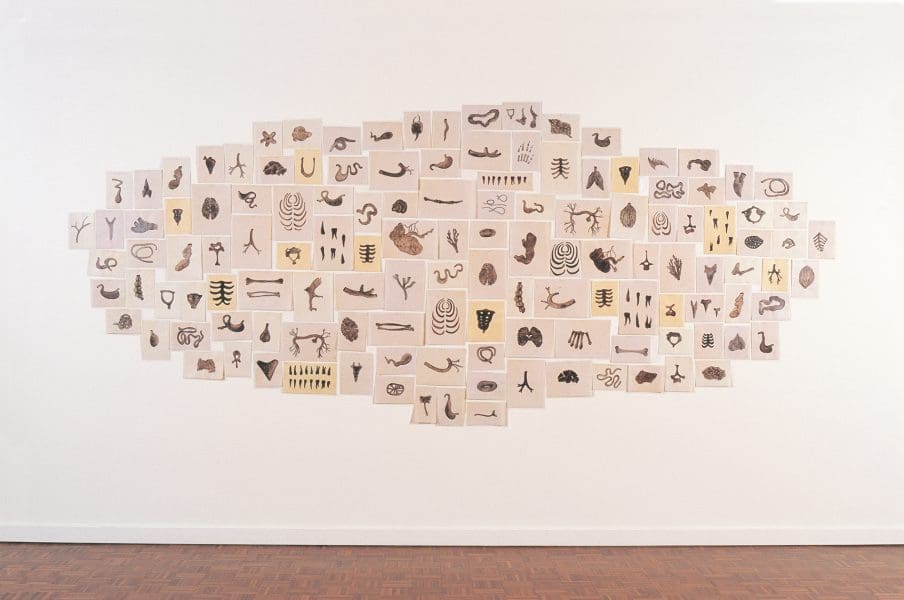 Valamanesh started out as a studio potter in the 1980s, and over the ensuing decade began pushing the boundaries of her practice to experiment with the sculptural qualities of clay. Following her time in Glasgow, Valamanesh moved away from making solely utilitarian objects and her practice became increasingly research-based. At times working collaboratively with her partner, fellow artist Hossein Valamanesh, she sought out more opportunities to further her knowledge of nature and science, travelling to the libraries of the Smithsonian Institution, the Australian National University in Canberra and the University of Adelaide. While there, she studied collections of rare books, scouring them for scientific and botanical illustrations. "A lot of rare books are early editions," Valamanesh says. "To turn the pages of a book published in the 1700s is wonderful and I fell in love with the drawings. These scientists had exceptional drawing skills."
While Valamanesh is profoundly inspired by scientific illustrations, the work she creates is not a direct replica of the images she peruses, but rather a distillation of memory and imagination. "I'm not a botanical illustrator or a scientist so I can free-range with how I make imagery," she admits. Stylistic echoes of Robert Hooke's drawings from his 1665 publication Micrographia, the botanical illustrations of seventeenth century plant anatomist Nehemiah Grew, and the detailed orchid studies of South Australian artist Rosa Fiveash, are all gently evident throughout About being here. ln the black-and-white watercolour Observations no.1, 2014, Valamanesh uses a circular frame to encase a horde of bacteria-like forms; while Earthly Garden #12, 2011, depicts earth-coloured ceramic pods tightly clustered together as though bubbling from the earth. The shiny black ceramic torsos seen in the 2017 series Insect/Orchid and 2018 series Dark Life clearly speak of their flora and fauna influence.
Following the completion of her PhD at the University of South Australia in 2012, Valamanesh has continued researching the development of early microscopes and their accompanying illustrated records. Freely admitting, "I always gravitate to a library," Valamanesh has come to know the tiny cellular worlds of nature and biology even more intimately. "I have realised how life forms are all connected. Once you start looking at something under a microscope you can't help but notice the similarities— everything is cellular, we are united with the plant and animal world. There is a form of identity there, a way of connecting with the natural world."