Calum Hurley, Jordan Leeflang and Ivana Taylor. Their names might not be immediately nor widely recognised as of yet, but these three emerging furniture designers/makers are noteworthy nonetheless. In case you're wondering why, Hurley, Leeflang and Taylor have prepared an exhibition, titled Generate 2020, conveying the three makers' development over the course of their foundation year as Furniture Associates at JamFactory and looking toward an uncertain future with curiosity and hope.
In Generate 2020, opening this Friday, 4 December, the rising stars present original works that are as compelling together as they are impressive apart. Suffice it to say, it's time we get better acquainted.
Ivana Taylor, a Manly (NSW) native, moved to Adelaide for the Associate Training Program in 2019 after graduating from UNSW with a Bachelor in Art / Design Education (honours). Taylor has used the program to marry her textile expertise with a keen interest in furniture construction. Taylor's furniture has since been presented at Denfair's Front Centre 2019 and at Sally Dan-Cuthbert's 2020 Melbourne Design Week showcase (by whom she is represented).
Playing with the relationship between textiles and timber, masculine and feminine, strength and softness, Taylor's practice distills the process, texture and aesthetic qualities that have evolved from a long-standing fixation with wrapping and binding, which complements the angularity and geometry of Hurley and Leeflang's work.
Calum Hurley has spent his time during the Associate Training Program experimenting and developing his usage of Jesmonite, a composite casting material, as well as working with local fabricators to create a series of objects for the home. Hurley's mother, Carol Herbertson, an award-winning weaver, encouraged creative expression throughout Hurley's childhood. This blossomed into a collaborative practice between the two, with Herbertson's textiles featuring across a range of Hurley's work, including his Generate offering.
Looking to balance his exhibition work with retail- ready pieces, Hurley presents three dining chairs (constructed by Hurley in-house) alongside a series of wall mirrors (originally presented and receiving an honourable mention as part of VIVID Design Competition 2019) which utilise local industry and in-house final touches. This juxtaposition of softness and geometry balances perfectly the work of Taylor and Leeflang.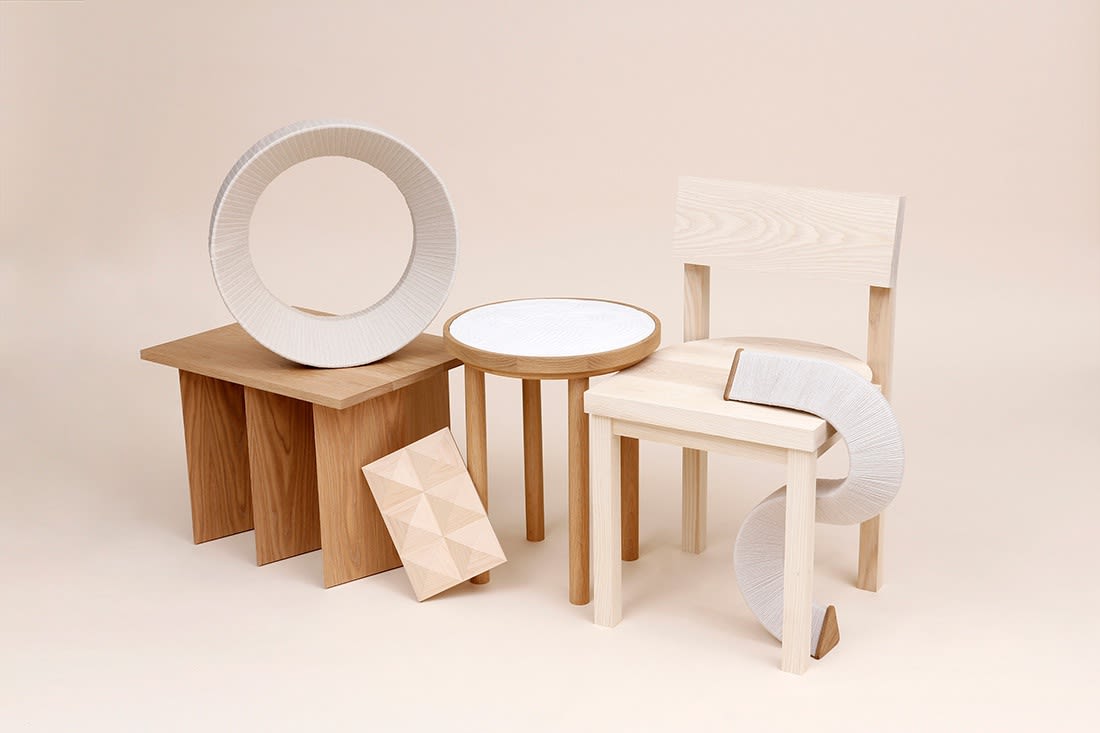 In the studio, Jordan Leeflang works primarily with timber, using his time at JamFactory to build upon his skills, his resultant pieces speak to his interior architecture background. Continuously trying to expand his knowledge, Leeflang takes risks with his designs which force him to consider alternative and complex practices. He has a special interest in design processes that involve using templates and jigs to replicate cuts, resulting in objects formed of repetitive elements.
Leeflang has been involved in a number of design competitions, winning the 2019 Workshopped Award for Design for his Sunday Stool, as well as being one of the winners of DENFAIR: Front Centre 2020 with Ripple Side Table, a collaborative piece with Xanthe Murphy. His work has been exhibited in Adelaide Fringe and Melbourne Design Week in 2020. Leeflang's work represents the sharp edge of the trio, crisp and elegant, while grounded in everyday life.