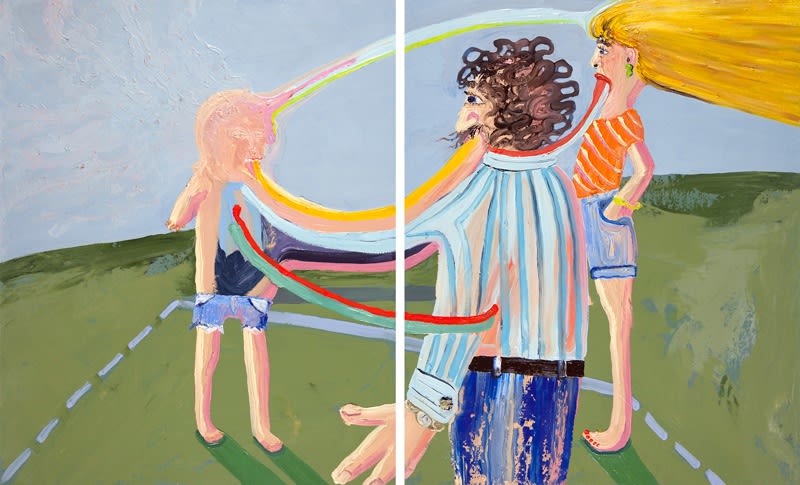 Amber Boardman, Familial Triangulation Field Day Event, 2018, acrylic and oil on canvas. Courtesy the artist and Chalk Horse Gallery
Bodywork curated by Erin Coates for Fremantle Arts Centre offers a loose take on the subject of human plasticity. It presents works by Amber Boardman, Tarryn Gill and Kaylene Whiskey in which bodies are shaped by internal and external forces in curious ways. Refreshingly, it's an exhibition without an overt manifesto that reserves moral judgements, allowing for flights of speculative fancy, multifaceted interpretations and moments of frisson between the artists' works.
Amber Boardman's impasto paintings are thick and goopy in places, with cartoon colours cast in a muddy tone so that depictions of flesh, mostly white, recall areas of the body close to its openings. Boardman's career in animation specifically for the fun-gross "night time identity" of the US Cartoon Network, Adult Swim – is often-cited as an influence, and with good reason. Figures are pictured in various stages of distortion or bodymelt, pressed together or with the air between them full of heavy energy. In Familial Triangulation/Field Day Event (2018) a man and a woman – presumably a mother and father – and an adult-baby figure are joined by the mouth, heart and brain with ropes of colour that knot them into a single family unit. This symbiotic togetherness is far from wholesome, more like an emotional human centipede.
Amber Boardman, The Internet of Vibes, 2020, oil on canvas. Image courtesy of the artist and Chalk Horse Gallery