A limited-edition collection of photographs by interior designer and collector Don Cameron channels the immense power of the Continent's far-flung Brutalist beauties.
Straight out of film school at London's Central Saint Martins college, Don Cameron kicked off the millennium directing music videos for Blur, Moloko and the Pet Shop Boys. The retro-futuristic elegance of his aesthetic jibed nicely with a time focused at once backwards and forwards, and soon enough the Dubbo-born lad was being commissioned to create advertising for European mega-brands including Audi, Braun and L'Oréal.
It was on one such job, for Switzerland Tourism, that he encountered his first Brutalist churches: defiantly blocky concrete structures from the middle of last century that seemed to surge from villages with roots in the Middle Ages.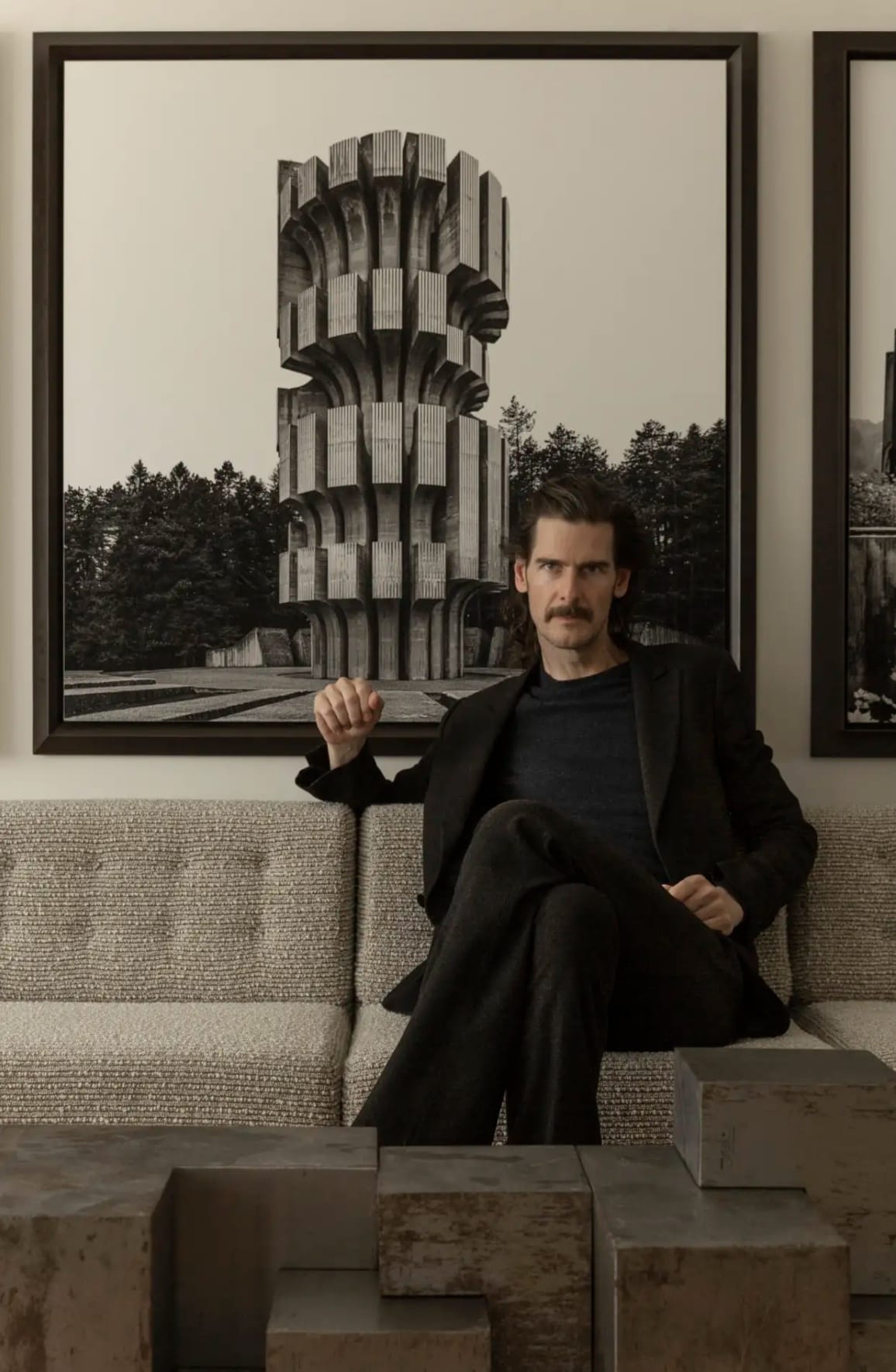 Don Cameron and his photograph "Kozara", of a monument in the former Yugaslavia designed by Dušan Džamonja (1972). "Capitole" sofa by Pierre Guariche (c1960); foreground sculpture "Costruttivo 74, Modulo L" by Nicola Carrino for Jabik edition.
And so began a two-decade fascination with some of the most revered – and reviled – architecture of the past 80 years.
"I was reading a lot of JG Ballard's dystopian fiction at the time," recalls Cameron, now ensconced in the apartment-gallery in Point Piper, Sydney, where he showcases rare mid-century furniture and lighting.
"I'd also recently come across the 1967 book Bunker Archeology. in which French philosopher Paul Virilio recounts the brutal beauty of these structures, thousands of which are spread across the Atlantic coastline of Europe."
Virilio likened these behemoths, built at Hitler's command to form a defensive wall between Nazi-occupied Europe and the UK, to Etruscan tombs, Aztec structures, "little temples".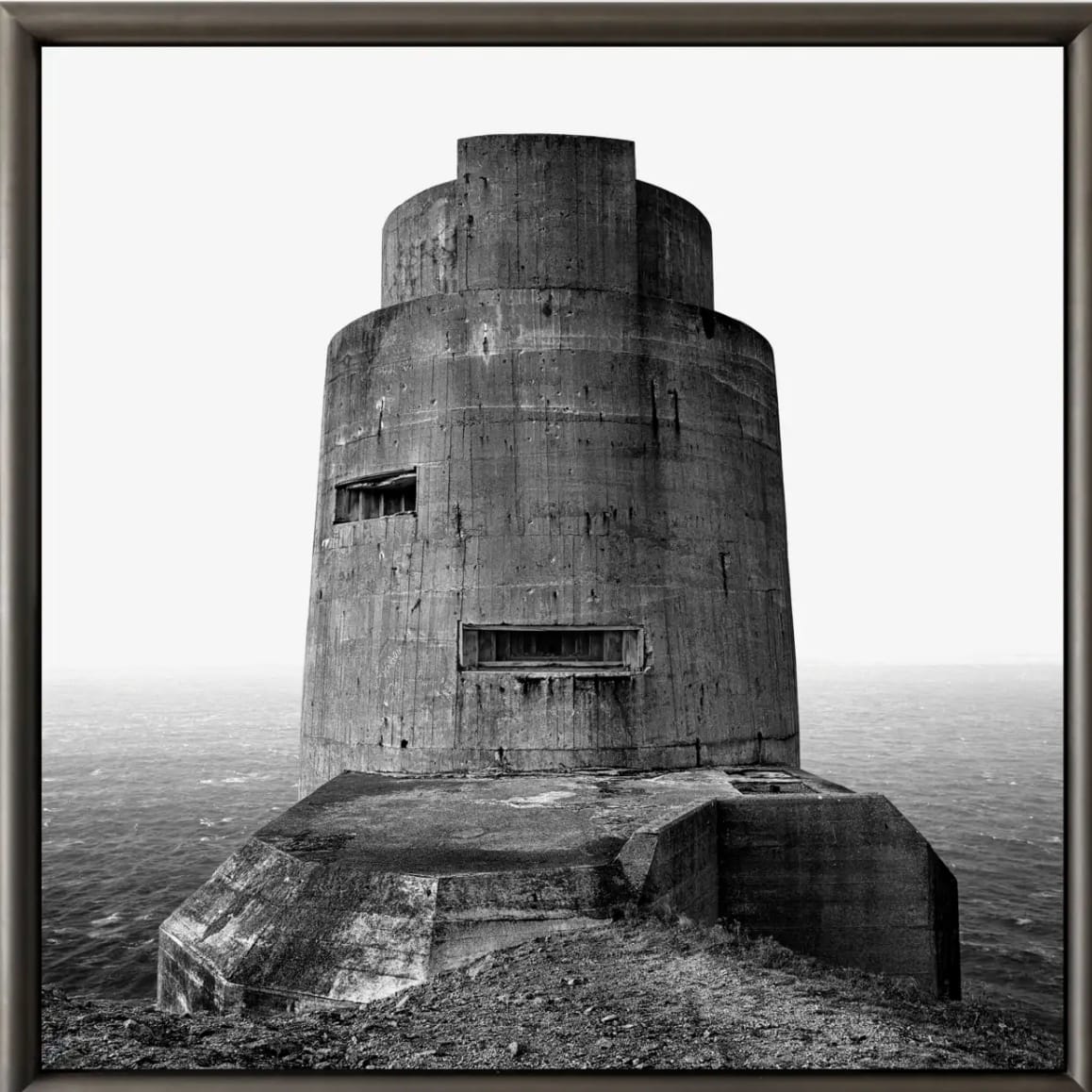 This Brutalist concrete bunker on Jersey in the Channel Islands was part of Hitler's Atlantic Wall to "defend" Nazi-occupied Europe. Don Cameron
Or as Cameron puts it, they're "like silent sentinels marking the point at which land, sea and sky merge, staring out at the infinite".
Paradoxically, he notes, they were designed to evoke awe and heighten foreboding while practically disappearing into their surroundings, their giant forms composed to cast little shadow.
It's this aspect that he has striven to capture in Communion, nine large-scale black-and-white photographs chosen from a catch spanning 2002-2020 of bunkers, churches and spomeniks, the monuments built in Tito's Yugoslavia in the 1960s and '70s to commemorate World War II battle sites.
Shot on film using a classic Hasselblad camera, the identically sized images (1320mm by 1320mm) are each named only by place.
Vienna depicts the Church of the Most Holy Trinity, better known as the Wotruba Church after Austrian sculptor Fritz Wotruba, who devised its neo-cubist form in the early 1970s.
Nevers is of the Church of Sainte Bernadette of Banlay, in central France, designed by Virilio and architect Claude Parent as an evocation of the bunkers along the Normandy coastline. Its deliriously off-kilter elevations are a manifestation of Parent's theory of "the oblique", according to which angled planes create apparent dynamism in otherwise static structures.
"Nevers" depicts the Church of Sainte Bernadette of Banlay, in central France, designed by philosopher Virilio and architect Claude Parent as an evocation of the bunkers along the Normandy coastline. Don Cameron