Sally Dan-Cuthbert's gallery is a cabinet of immense curiosity. Within its pristine glass and plaster walls, chairs are conjured up from rusty car bonnets, benches sprout emu plumes, a stoic steel cabinet has been hand-hammered to dimpled imperfection, shimmering against one wall. Each of the dozen or so pieces on show has an allure beyond its immediate use, an indefinable something the French call a je ne sais quoi.
The gallery, which opened to the public this week in Rushcutters Bay, Sydney, is setting a new benchmark for collectable design, sometimes referred to as functional art.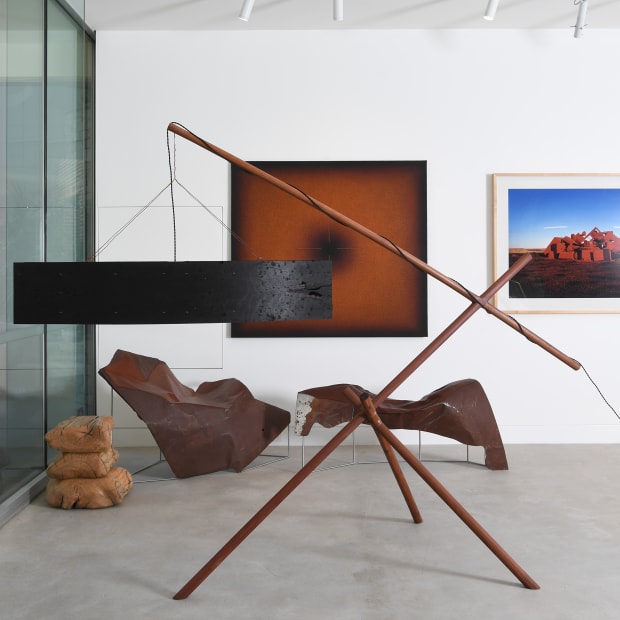 "I'm interested in artists, designers and architects who are making functional work that is unique and therefore of value to a collector," says Dan-Cuthbert, who is as chic and poised as much of the work on show.
Work like the tensile timber lamp by Damien Wright and Bonhula Yunupingu, titled 'Wanggany male wiripu minyinji wanggany dhukarr' ('Different colours one people one destiny'). Upright and angular, its dynamic form evokes that of a spear-thrower in action. The blackened, boat-shaped lamp shade represents Wright, a master wood craftsman based in Melbourne, travelling to Yolngu country in north-east Arnhem Land. The spear-casting figure represents Yunupingu, a member of the Gumatj clan, showing him the way. The piece, composed of carved rods of ancient red gum bound with copper wire and cured using tung nut oil, is part of a project begun in 2010 that the pair call Bala Ga Lili, meaning 'two ways learning'.
"It's about collaboration," says Yunupingu, "each learning from the other. Damien teaches me how to use his tools, about his technique. And I teach him about my tools and ways of working. Together we become something more than we could be on our own."
Collecting design is about personal, gut reaction to a work as much as provenance and pedigree.

— Didier Krzentowski, galerie kreo, Paris
Such pieces embody the curatorial focus of the gallery. "I'm interested in unusual materiality and deep narratives, pieces that evoke an emotion as well as an intellectual response," says Dan-Cuthbert.
"Damien and Bonhula's piece speaks eloquently of the meeting of two cultures, the powerful exchange of knowledge that occurs between two elegant men of different backgrounds but shared sensibilities. I suppose I approach things from a visual arts perspective more than a purely design point of view."
Dan-Cuthbert has been an art curator and consultant for almost three decades, counting Christie's, Goldman Sachs and a slew of well-heeled private collectors among her clients. Her personal collection boasts work by established artists including conceptual botanist Janet Laurence, photographer Rosemary Laing and multimedia maven Susan Norrie, as well as rising talents Emily Floyd and Lisa Reihana.
The rooms of her grand, Spanish Mission style home in Rose Bay are appointed with furniture by the likes of Gehry and Prouvé, interspersed with works by local designers Ross Graham and Michael Gittings.
"Many of my clients become friends and so of course I invite them to dinner," says Dan-Cuthbert. "That's how the thought bubble for the gallery first emerged, as a conversation between friends about collecting holistically. I love to have beautiful things on my walls, and so I also love to have beautiful things on my floors. It's perhaps no accident that much of the design I will be showing comes very close to sculpture."
She draws the line at soft furnishings: "We're not a design shop, there are no cushions here."
Gallery Sally Dan-Cuthbert is part of a rising tide of collectable design galleries worldwide, like The Future Perfect in New York, Etage Projects in Copenhagen and the Carpenters Workshop network in London, San Francisco, Paris and New York.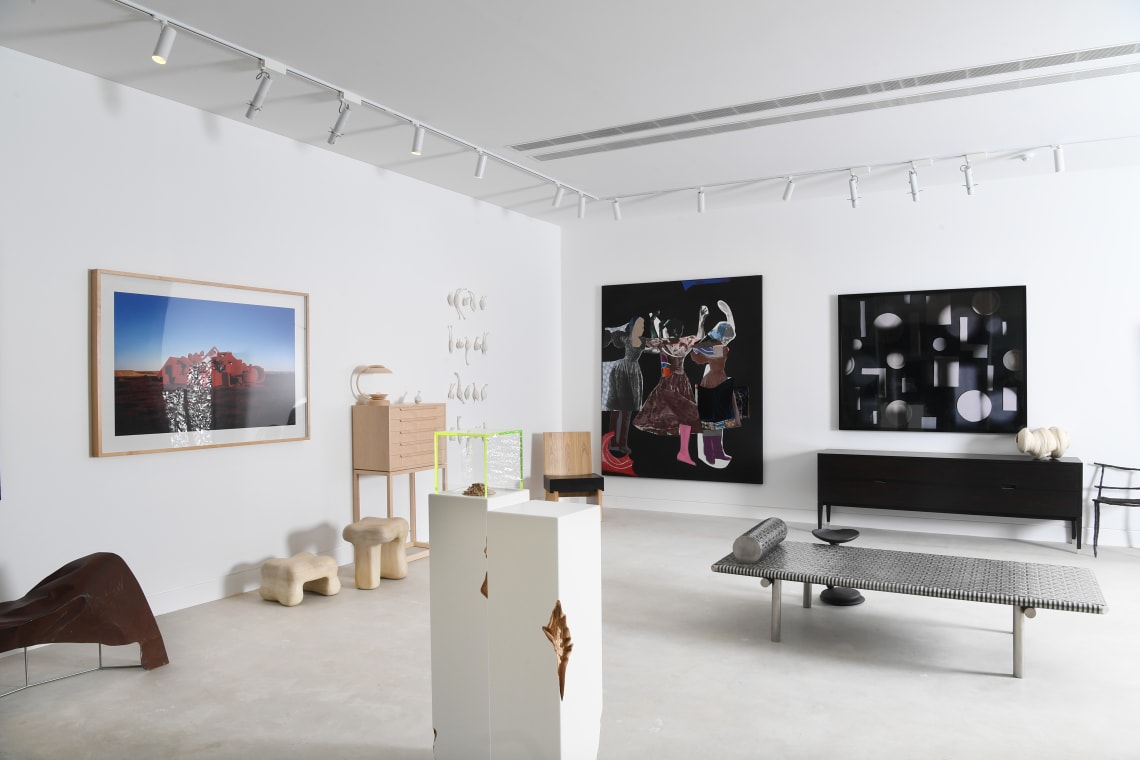 "Collecting design is not like collecting stamps," says Didier Krzentowski, founder and director of Galerie Kreo in Paris, the first European gallery to exhibit the work of renowned Australian designer Marc Newson, in 1999. "It depends very much on the personal, gut reaction to a work as much as provenance and pedigree."
Kreo, which occupies an 18th-century courtyard in the 6th arrondissement, "functions like a laboratory, allowing designers the freedom to experiment and push themselves in a way they can't with their mass-produced industrial pieces".
Dan-Cuthbert also sees her gallery as a testing ground, a place where designers can try out new ideas outside of commercial constraints.
The rusty car bonnet chairs, for example, are early works in a collection the designers Trent Jansen and Johnny Nargoodah are planning to develop for a solo show at the gallery next year. Fashioned from wrecks the designers found in the Kimberley, the collection is called Collision, as ode to the original crash and the creative clash of their cultures.
"We stumbled across a car graveyard when we were collaborating on a piece for a show in 2017, and were immediately struck by the beauty of the crumpled forms," Jansen recalls. "Johnny is a saddler by trade, so I cut away particularly bum-shaped pieces, which he then upholstered in fine, water-formed leather, which further sculpts them. We've made the stainless steel legs as reductive as possible, like fine stilts, to support the rudimentary shapes."
Makiko Ryujin, who is known for her charred 'shinki' bowls, accepted Dan-Cuthbert's challenge to push her blowtorching technique to create furniture. Her series of pert 'Pebble' side tables look like balancing lava stones but are in fact hand-carved chunks of red gum, individually blackened, stacked and secured in place with a steel rod. Their charred platter-shaped tops are incredibly pleasant to the touch.
Michael Gittings' daybed of woven stainless steel – which riffs off Mies van der Rohe's iconic 'Barcelona' bench of 1930 – is more about challenging perceptions than appeasing the senses. Each strip of metal has been individually hand-dipped and tinted before being tressed, like rattan. It's a "pretty vicious" process, says Gittings, a roof plumber by trade. Also on display in the gallery is his vigorously hand-hammered 'Crumpled' cabinet. A credenza, low chairs, tables and mirrors will be added for a solo show scheduled for November.
"Before that, I'll be putting on a solo show of works by artist Marion Borgelt, followed by another group design show," says Dan-Cuthbert, who plans to offer a new exhibition every five or six weeks.
The gallery is "a really interesting addition to the commercial gallery scene", according to Barry Keldoulis, chief executive of the Sydney Contemporary Art Fair, to be held at Carriageworks from September 12 to 15 this year.
"People who spend significant sums on contemporary art are clearly very conscious of their living environment, so the idea of complementing artworks with design pieces is not surprising. The area of collaboration between artists and artisans will naturally be of interest too."
Stay tuned.