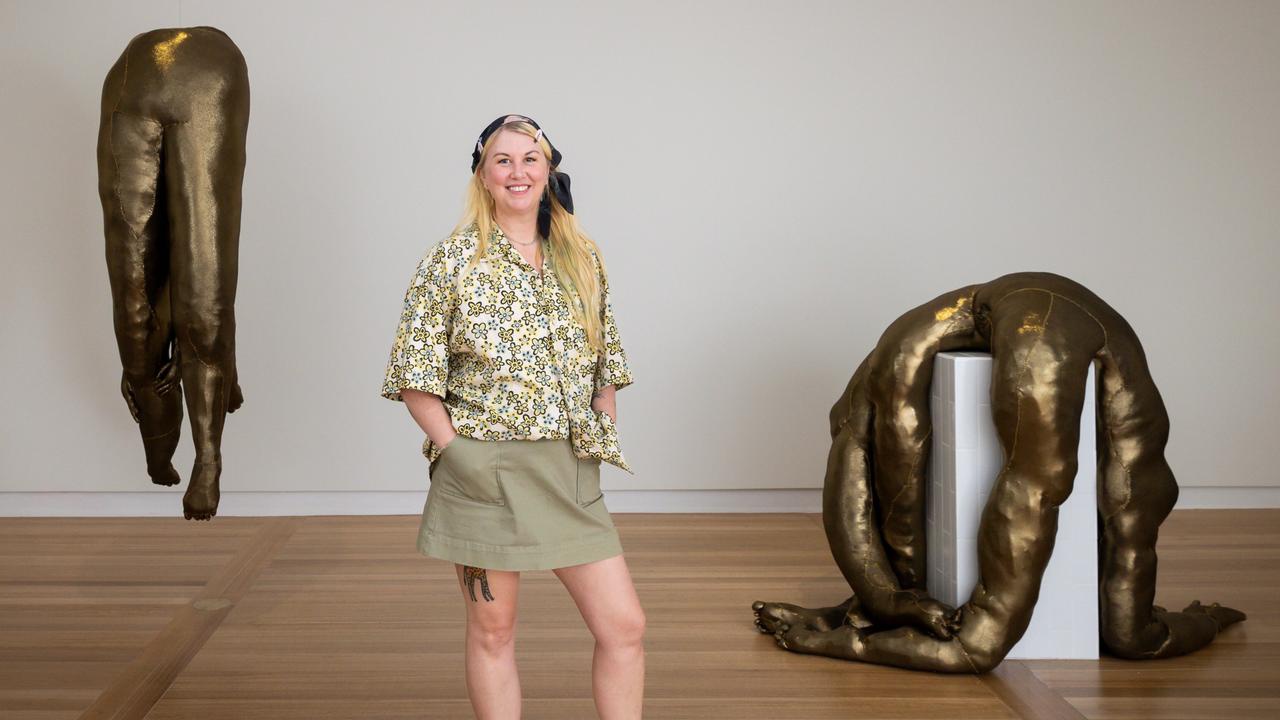 Through Tarryn Gill's childhood and teenage years, competitive callisthenics was her physical and creative outlet — she loved the movement, the music, the costumes, the big hair and makeup. But by age 25, her body was telling her to stop. The hypermobility that gave Gill's body its flexibility was also causing her pain, fatigue and injury.
The two sides of her callisthenics experience are given expression in her series of soft sculptures called Limber. Made from foam, and covered with bronze Lycra like a leotard, the sculptures have floppy limbs that are suspended from the ceiling or draped over a plinth. They are part of a new exhibition opening at the National Portrait Gallery in Canberra on Friday. Portrait23: Identity is billed as a provocative rethink about portraiture, who it represents and what it can be.
Gill, 42, said her textile-based Limber sculptures did not look like her, but reflected her experience. "They reference my own body and they are about my body – that's how I think of them as self-portraits," she said at the NPG on Wednesday. "They are not traditional self-portraits: they don't have heads, they just have limbs. They are figures that are growing in a way that's ego-less."
Portrait23 features 23 artists and groups from across Australia, including artists from non-white and First Nations backgrounds, and artists with disability. While many have a well-established art practice, few would consider themselves portraitists.
The exhibition includes an outdoor installation by street artist Baby Guerrilla, a floating silk photographic sculpture by South Sudanese-Australian artist Atong Atem, ceramic figures by Thailand-born Vipoo Srivalasa, puppets by Sally Smart, and a performance piece by Bundjulung/Ngapuhi artist Amrita Hepi.
Sandra Bruce, NPG director of collection and exhibitions, said Portrait23 was intended to prompt visitors to think beyond traditional portraiture. "A portrait is generally understood to be a literal visual likeness of a person, perhaps going so far as to reference their interests and endeavours," she said. "With Portrait23, through directly engaging with some of Australia's most exciting contemporary artists, we are bringing new, diverse concepts and perspectives around the genre, and its inherent universal theme of identity, to the table."
Many of the artists will be at the NPG on Thursday, when Jodie Haydon, as chief patron, will officially open the exhibition. It's a tradition of the NPG that the chief patron is the partner of the prime minister.
Gill said the Portrait23 artists had produced a "contemporary take on what portraiture is, or what it could be. It's a fun and beautiful show".
By MATTHEW WESTWOOD
ARTS CORRESPONDENT
7:53PM MARCH 8, 2023