Tammy Kanat is a Melbourne-based weaver and fibre artist who creates colourful circular tapestries comprising wool, silk and other fibres woven around gold-coloured copper frames. Her innovative use of the circle frame, rather than a traditional square or rectangle, as well as her bold use of colour, shifts the longstanding practice of tapestry into a dynamic and contemporary realm.1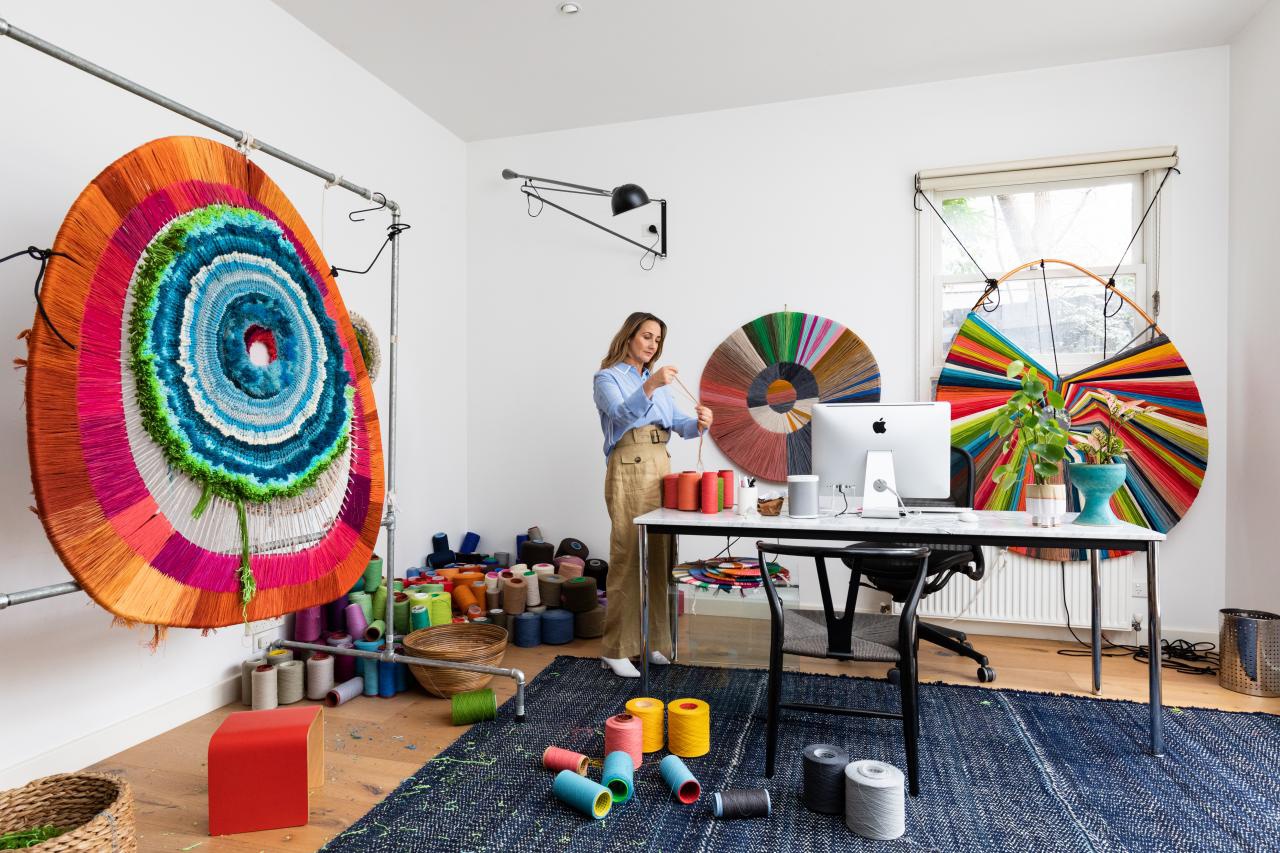 Kanat began to develop her unique style from 2011. She investigated the potential of tapestry and experimented with its associated techniques initially purchasing her first loom from the Wondoflex Yarn Craft Centre and experimenting at home, then deepening her education with a short course at the Australian Tapestry Workshop. Here, she learnt the traditional techniques of tapestry, which Kanat first practised at a relatively small scale, before creating large-scale works.
She confidently combines colours and fibres of various densities, textures and hues to investigate potential patterns and visual effects, rather than replicate existing images or forms. Her work is led by the materials with which she works. Over the years, Kanat's bold techniques and skills have evolved through accident, play and problem-solving; she continually experiments, and is determined to push the tapestry discipline beyond traditional expectations and attempt to uncover the full potential of the medium.
Kanat's husband, Jonathan Kanat, devised the steel-framed loom from which the circular copper frame hangs, with its spider-like central web of supporting yarns. Effortlessly suspended, the frame offers versatility through its lightness, as well as the potential to experiment and create.
The portability of the loom means that Kanat will often take her tapestries with her when she travels, which allows her to work freely in nature; for example, on her houseboat in Lake Eildon, Victoria. More typically, however, Kanat weaves from her light-filled home studio that looks out onto a lush green garden. This location inspires her sense of colour, as well as offering peace and tranquillity for the meditative weaving process. With a skein of thick fibre over her shoulder, she will work her loom like a harpist, fiddling within its warp as she wraps, twists and works her selections of wool, silk, linen, hemp, hessian, mohair or jute in different rhythms. Without any predetermined plan, she weaves her colours in an organic rhythm, choosing hues to suit her eye and mood. As Kanat explains:
The colour I work with usually reflects my mood. I utilise bright colours when I'm feeling upbeat, earth tones are when I'm feeling melancholy and calm, and strong and bold colour when I'm feeling passionate and empowered by the process.2
Kanat primarily draws her palette from colours she finds through her consistent observation of nature; she also seeks inspiration from a range of creative sources and practitioners including Bauhaus icon Gunta Stölzl, German-American abstractionist Josef Albers, Spanish architect and designer Patricia Urquiola, fashion icon Diana Vreeland and modernist architect Frank Lloyd Wright.
In addition, Kanat forms texture through the various weights of her twine. Some fibres are as thick as fingers, while others are thin as needles – to create this effect, she pulls tight, creating flatter planes beside the bulbous filaments. The rows of concentric circles create an undulating landscape that is original yet vaguely familiar, recalling cut agate, a bird's-eye view of a landscape, drops of water or the texture of living coral. The circular void at the centre of each work is like a seeing eye, anchoring the work and allowing one to read endlessly inwards.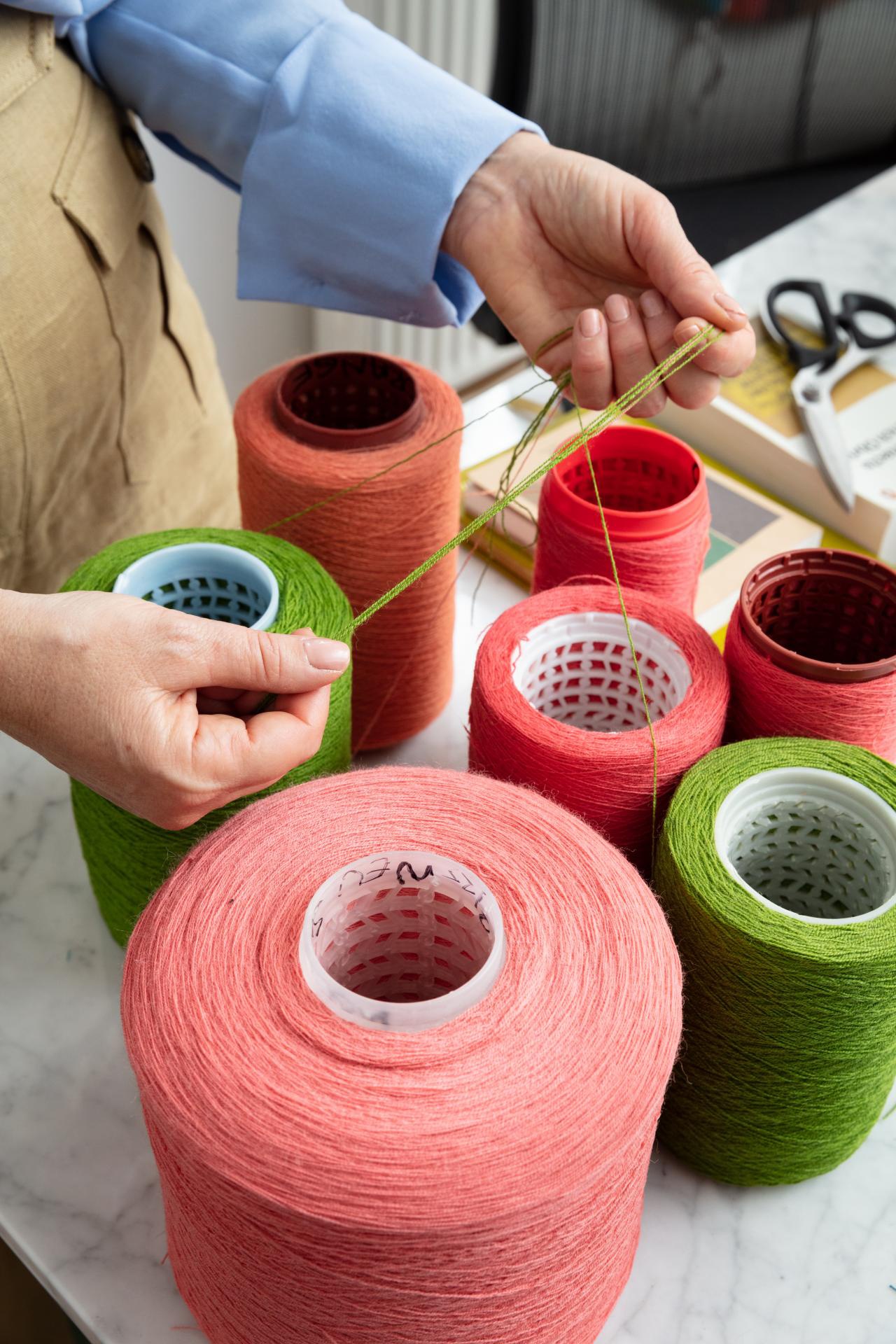 NGV x MECCA commission
The Circles of Life series has been commissioned by the NGV as part of the Gallery's partnership with MECCA. Now in its fourth year, this partnership sees MECCA Founder and Managing Director Jo Horgan support the NGV to acquire new works by female Australian contemporary artists for the NGV Collection.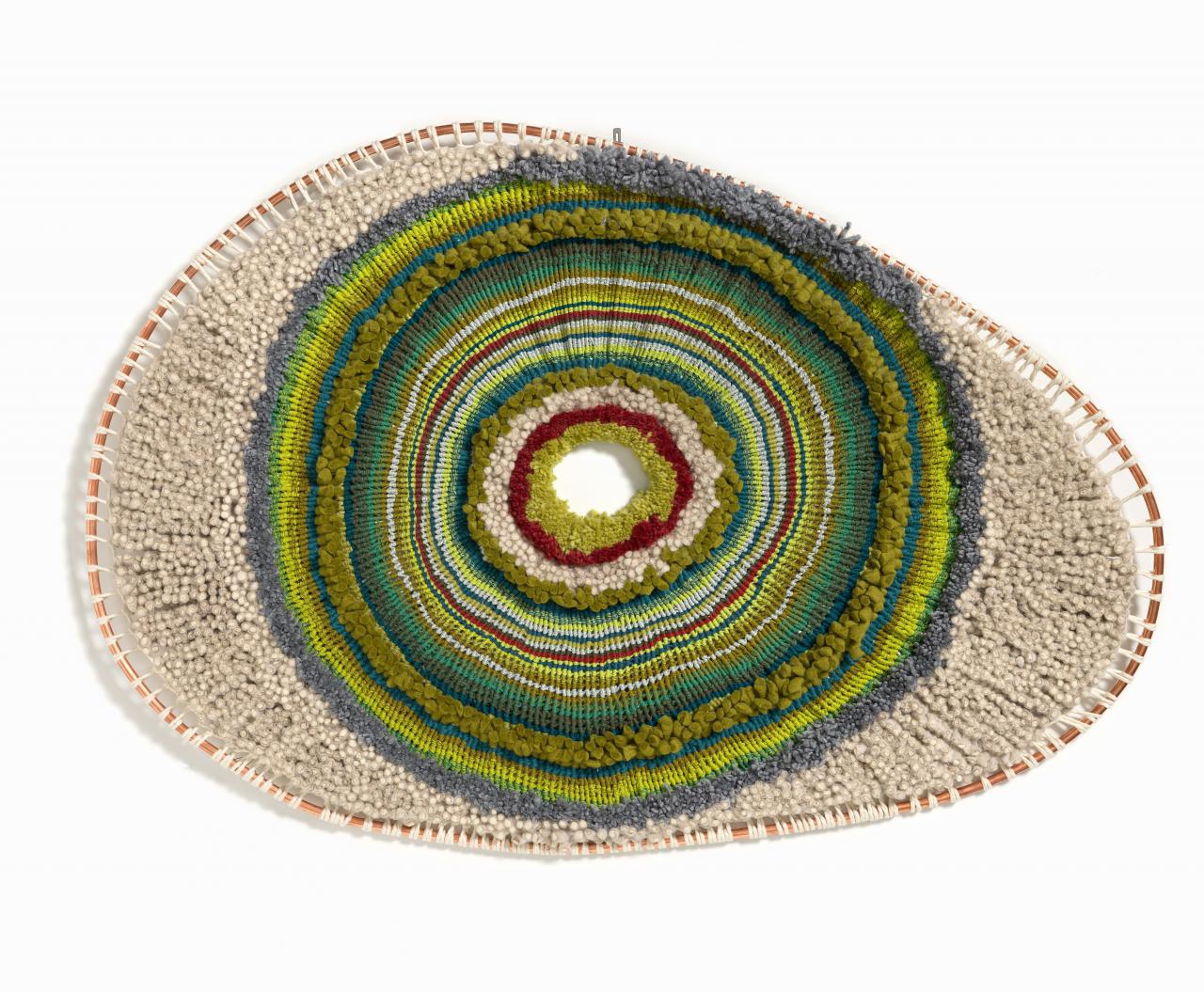 The first work in the Circles of Life series, Pinetree, 2019, extends from the centre to the outer edge of the copper frame in earthy repeated rings. Its dense and heavy weave displays Kanat's signature style of alternating haloes of creamy tones. Named after its subject, the work draws from the annual growth rings of a cut tree trunk.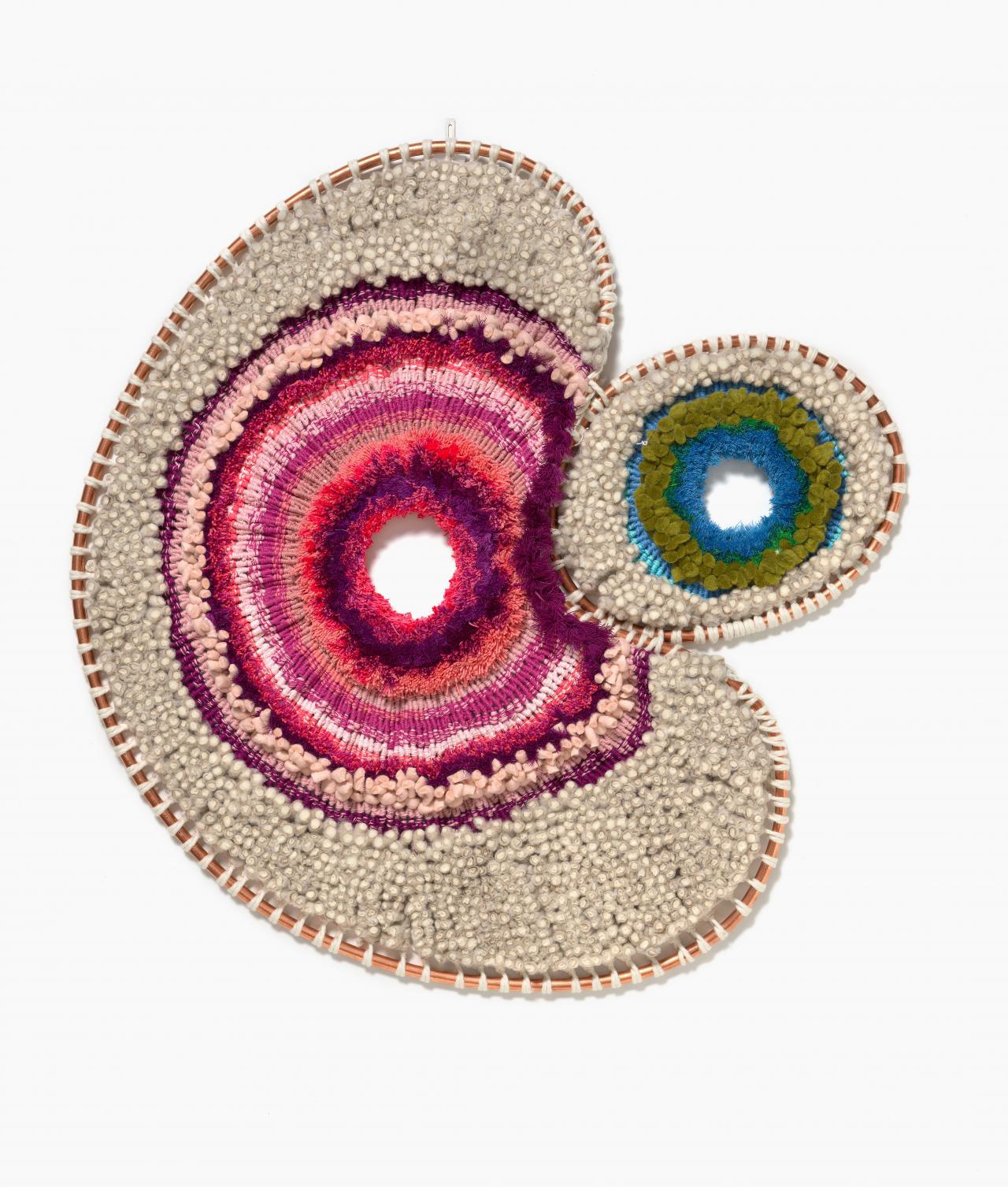 Nurture, 2019, combines two interconnected circular forms. 'I was reflecting on motherhood', Kanat said, 'which is probably how the form developed'.3 The work recalls the form of an ovary, and its releasing of an egg. The complementary fit of the two forms also evokes the Yin and Yang of Chinese philosophy, a concept that describes how seemingly opposite or contrary forces may actually be complementary, interconnected and interdependent in the natural world.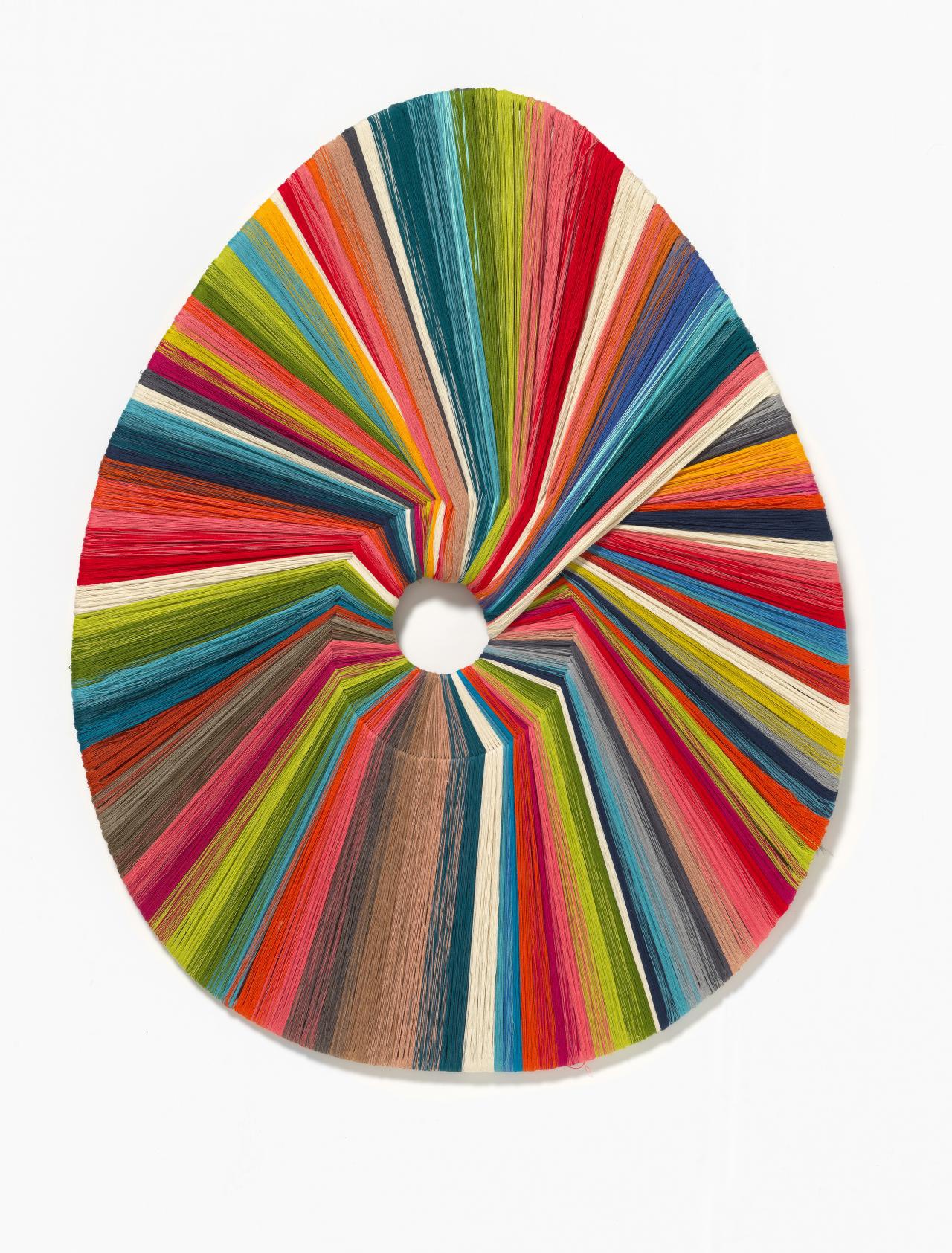 Web, 2019, harks back to Kanat's early interest in colour. The works from the beginning of her career are small circular studies of wrapped threads that aim to draw out colour relationships and effects when placed side by side. In these works, Kanat references the colour theory experiments undertaken by early twentieth-century artist Sonia Delaunay, who alongside her husband Robert Delaunay and others founded the Orphism art movement and developed the concept of simultanéisme, which describes the phenomenon that occurs when bold colours and geometric forms are placed next to each other: the eye 'mixes' the colours, creating rhythm and movement.4 This work also shows Kanat's trademark spider-like weave in repetitive cycles.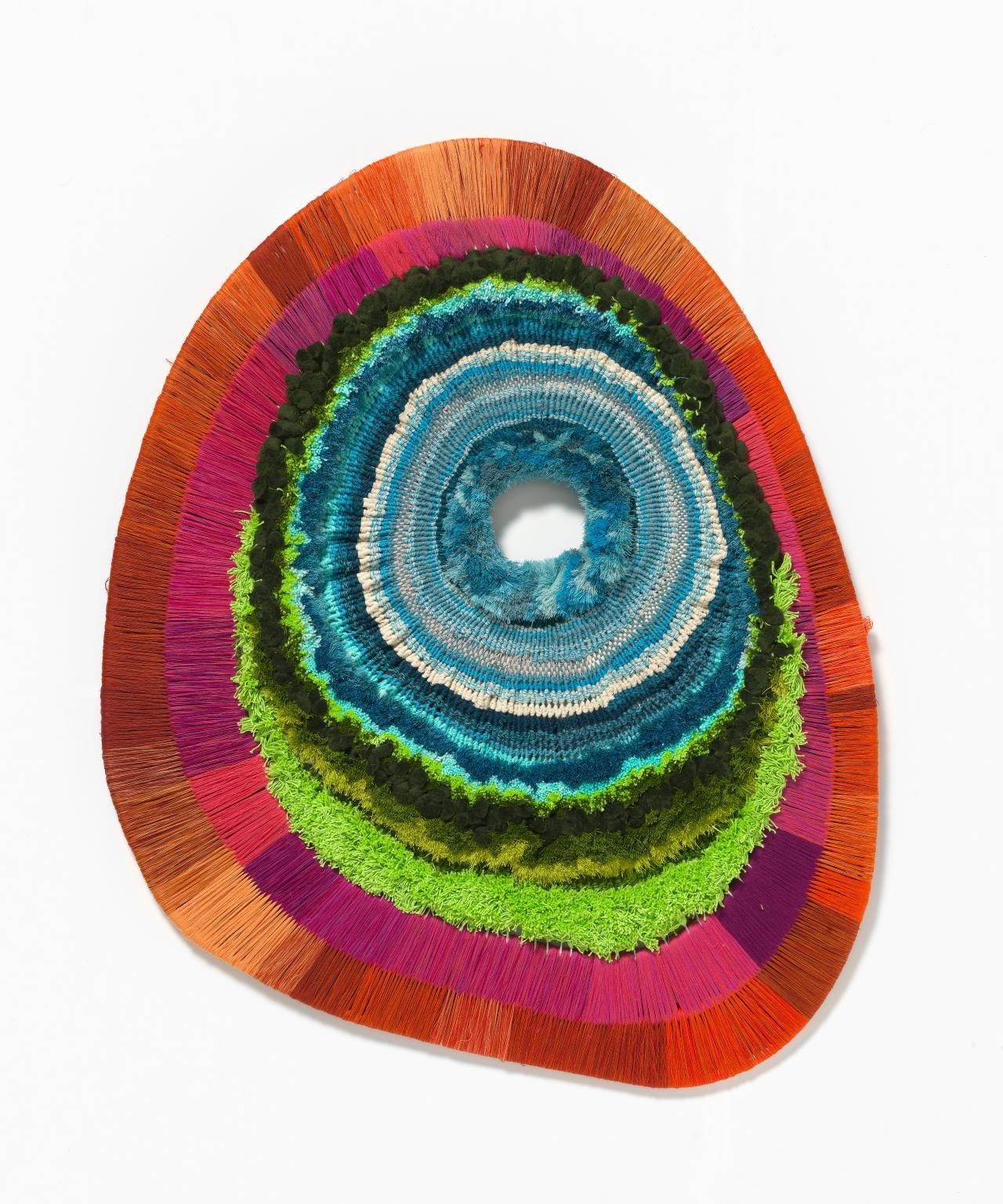 The final piece in the series, Harp, 2019, is also bold in colour and texture. Over the course of the eight months over which this series of works was woven, Kanat's mood shifted from one of quiet introspection to one of increasing boldness. 'The commission with the NGV and MECCA has increased my confidence', Kanat says.5 This falling away of inhibition is reflected in the tapestry's form. The work retains the artist's signature tapestry techniques but uses a vibrant neon colour palette. The title is reflective of Kanat's process of making: at times she felt as if she was working her loom like a harpist, sitting on her stool, wrapping, twisting and weaving her silk and wool within the warp of her tapestry.
Kanat has been developing her client list over the past five years. Her first exhibition, The Spirit, was staged in 2014 and since then she has shown at the 2017 Milan Furniture Fair and has consistently attracted commissions internationally through social media. Kanat has fulfilled international private commissions, completed a four-piece work for the art collection of the US department store Nordstrom, and is currently working with Australian company Creswick Woollen Mills to weave a work in alpaca and wool in celebration of the company's seventy-year anniversary. Kanat also works with rug brand Cadrys to develop specialist ranges of floor rugs.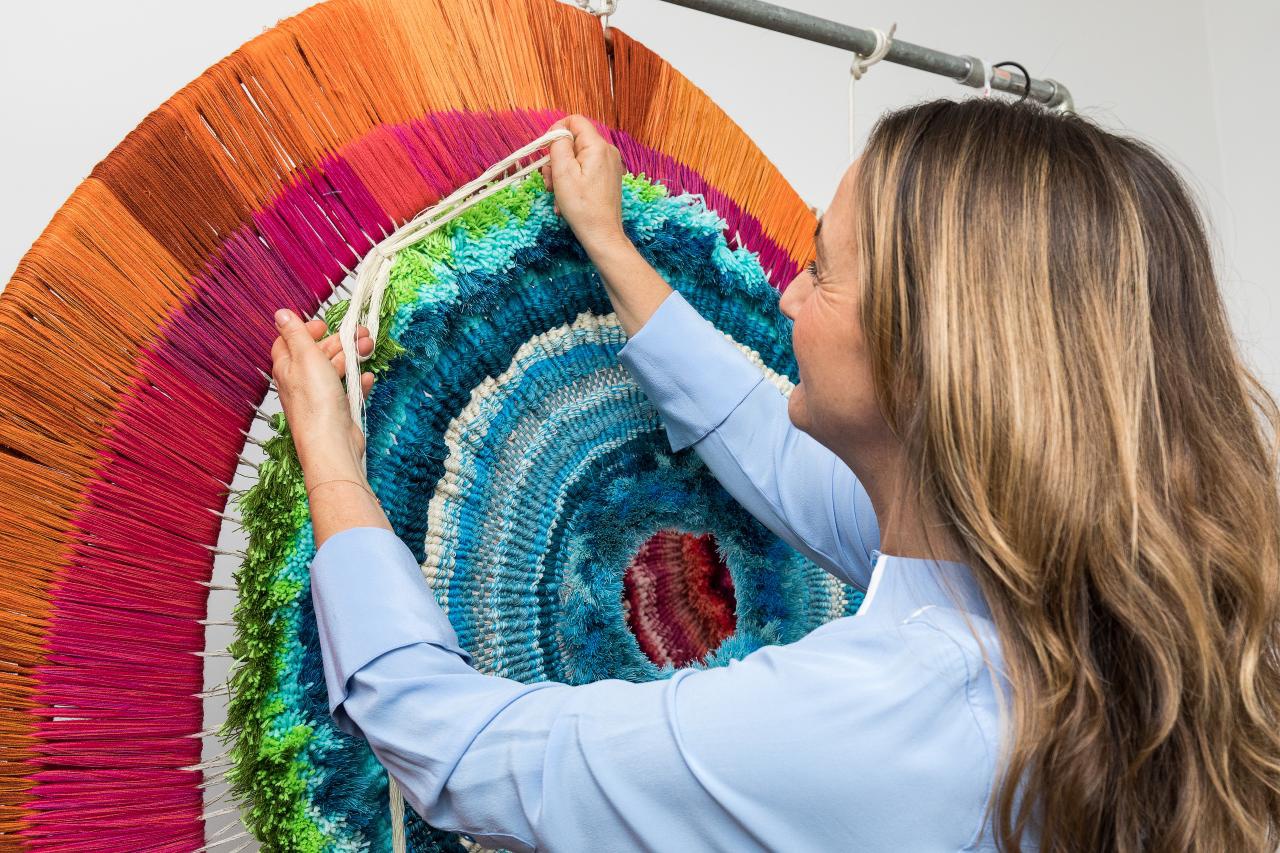 Kanat has successfully reinvented the textile-weaving discipline for the twenty-first century. With their tactile, dense, porous fibres the works in the Circles of Life series are resoundingly contemporary, but also take as inspiration modernist traditions and abstract art. They are reflective of Kanat's personal journeys and emotions, but also speak more widely about the potential of the fibre medium, the experience of maternity and engagement with nature.
Notes
1 The essay content has been drawn from the author's interactions with the artist and observations of her work over the period December 2018 to September 2019.
2 Courtney Rothberg, 'Tammy Kanat', The Eye Creative, no. 14, Dec. 2018 – Feb. 2019, pp. 38–41.
3 Correspondence between Tammy Kanat and the author, 19 June 2019.
4 Stanley Baron & Jacques Damase, Sonia Delaunay: The Life of an Artist, Thames and Hudson, London, 1991, pp. 112–19.
5 Phone call between Tammy Kanat and the author, 9 September 2019.