With prudent timing in a post-pandemic world the debut of the Melbourne Design Fair on March 17 will take the pulse of our pent-up appetite for design, our enthusiasm for 'Australian Made' and perhaps flush out some of that accumulated loose change that saw $62.3 billion spent on overseas travel in 2019.
The Design Fair is a high-minded newcomer to Melbourne Design Week, now in its sixth iteration. Design Week supports a dizzying program of 300 events – exhibitions, talks, tours, workshops and a film festival, across venues including Collingwood Yards, MPavilion, the National Gallery of Victoria (NGV) and Scienceworks.
In contrast, the Design Fair is the first of its kind in Australia, breaking new ground in the presentation, promotion and sale of collectable contemporary design by 100 artists – all under one rather nondescript roof in an industrial warehouse in Duke Street, Abbotsford.
As an indicator of Design Fair's promise, the four-day Melbourne Art Fair last month recorded sales of $10.5 million from the 63 participating galleries with several reporting sell-out shows and record prices on the first night. The success of the Art Fair prompts the question, will the shine rub off on the Design Fair?
"There's always going to be debate about the difference between art and design," said Marsha Golemac, who has curated a collection of works by 16 artists for her second show in MDW, Material Culture.
"But they cross over, they both have the power to express emotions and tell stories regardless of whether the works are functional or not," she says.
"In the last two years we were all at home, we made the effort to be creative. It was an emotional boom for the average Australian. Now the level of enthusiasm, driven by the NGV's department of Contemporary Design and Architecture in initiating this event, has created a turning point for collecting design."
There's white noise surrounding the Design Fair, prompting comparisons to Design Miami's high-octane shows in Florida and Basel, Switzerland – with a first edition slated for Paris, in October.
But for international gallerists like Rachael Fry and artist Ben Mazey, who both call Melbourne home, this notion is at odds with their thinking.
Fry is a New York creative director who moved to Melbourne a decade ago to open her Criteria showroom of finely curated furniture and lighting, which evolved into C.Gallery for limited editions, and opened last year. Mazey spent more than a decade in Paris as a design consultant and was briefly Shanghai-based until the outbreak of COVID-19 prompted his move to Melbourne.
Dismissing comparisons with European and US fairs, Fry says: "Australia has a massive opportunity to host an art fair of international recognition. However, at the forefront of that conversation should be our geography – of Japan, Korea, Singapore, our Asian neighbours. I'm very optimistic, if we show interesting work the market will come."
Fiona Lyda, creative director of Spence & Lyda, Sydney's hub for artful shoppers, describes the southern city's appetite for design as "upbeat".
"Melbourne is the home of the best design [she will open a Melbourne showroom in May] and you have to congratulate the NGV for driving this."
Lyda credits Melbourne interior designer Fiona Lynch who spied a faded beauty in Kew, the 1883 Villa Alba, as a location for their MDW show – Future Collective. Curating local and global works, including some first seen at Super Salon Milan by Alvo Catalan De Ocon and English furniture designer Lucy Kurrein, Future Collective will also feature Innate, Lyda's collection in collaboration with Jon Goulder, Australia's internationally acclaimed furniture designer.
"Jon and I wanted to do something quintessentially Australian, a no-fuss straightforward design ethos to allow pieces to sit gently in interiors, not tap dance." The result is a collection of coffee and side tables, a console, a desk and dining table made of uncommon Australian hardwoods, Adelaide black granite and black powdered aluminium. Both Design Week and the Design Fair are great equalisers, says Golemac.
"Not every designer can get into a gallery, or has the funds," she says, describing her motivation in curating Material Culture as being "solely about bringing people together". Her exhibitors transgress age and experience, from one of Australia's foremost sculptors, Peter D Cole, to Jacqueline Stojanović, an abstract weaver who graduated from the Victorian College of the Arts in 2015.
"Despite the vast differences – he, a renowned sculptor, and she, an artist at the beginning of her career – they sit in the same creative space together. Experience and how well known they are goes out the window."
Fry notes that, "historically design talent in Australia hasn't enjoyed a single venue or the opportunity to showcase work under one roof. Collectors, interior designers, architects and investors are seeking new encounters to discover and buy collectable contemporary design."
Mazey says the pandemic has made Australia "both more localised and more globalised".
"Australia is already a central pillar in terms of Asia. Indicative of that cultural shift is the appointment of two Australia editors to Vogue China [Margaret Zhang] and Vogue India [Megha Kapoor]. It's interesting to view Australia as a new epi-centre.
Mazey, who will show his lamps, totems, wall panels and large format installations at both the Design Fair and C.Gallery, says "the aspiration to emulate places we perceive as bigger and better is damaging and counter-productive. "Let's just find our unique voice and turn up the volume."
Gallery Sally Dan-Cuthbert Works Not To Miss
Untitled (2021) desk by Don Cameron
When art-director/interior designer Don Cameron unveiled his 'Communion' series of large-scale black and white photographs of Brutalist WWII bunkers last year, each of the images came in a bespoke bronze frame that was integral to the piece (and priced accordingly). This year, he has moved away from the image, effectively evolving the frame to iterate a collection of limited-edition furniture that "explores techniques and outcomes", as Cameron puts it.
The first piece to be released is this solid walnut desk. "Translating the architectural and the monumental to a more human scale was the genesis of the piece," says Cameron, noting he was listening to 1980s Belgian minimal synth recordings as he was designing, and is planning to commission a soundtrack to sell with the desk.
Nocturne table by Olive Gill-Hille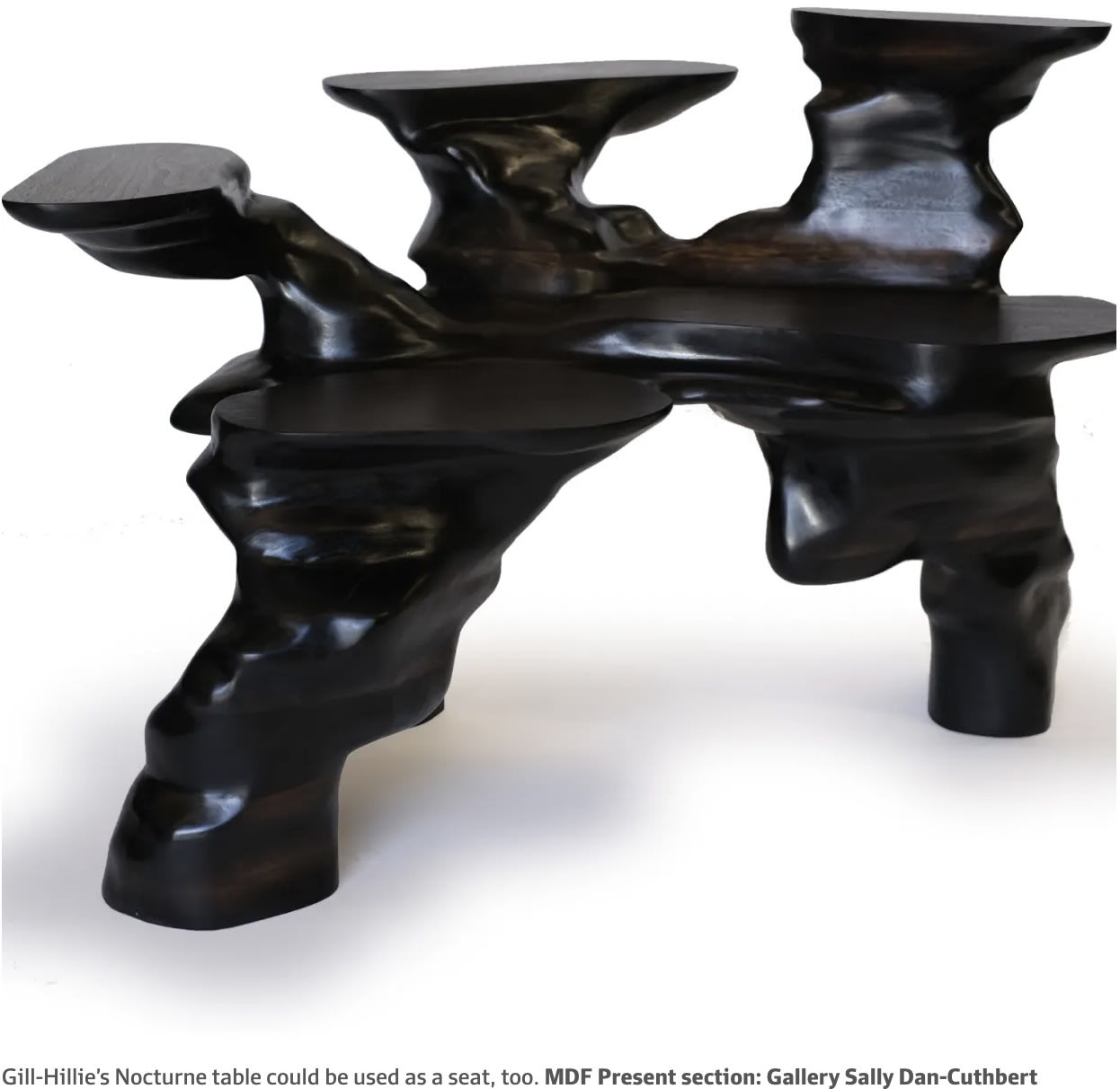 Perth-based Gill-Hille is reluctant to categorise her sensual sculptural pieces into a design typology – a 'chair', say, or a 'table' – suggesting "anything is functional as long it's got a surface". In the case of her newest work, Nocturne, if you pop a vase of flowers on it, I guess you might call it a shelf; plop your butt down, it's a seat. Handcrafted from solid walnut, the flurry of branches incarnates the feeling of "juggling lots of things in the

air," says Gill-Hille; an incarnation of the modern condition, then. Laminated then ebonised to a deep sheen, its organically dynamic form recalls Futurist sculptor Umberto Boccioni's iconic 1914 bronze, Unique Forms of Continuity in Space. Which I would never put a vase on.