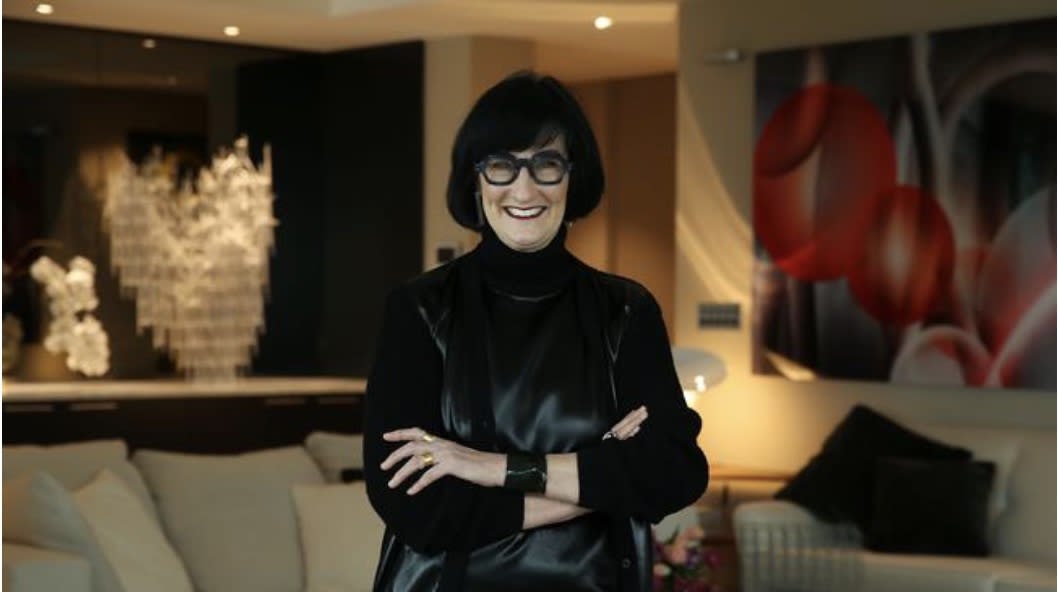 Marion Borgelt in her lounge room in front of a sculpture by Kirsten Pieterse, left, and one of her own large artworks, right. Picture: Jane Dempster / The Australian
From a fourth-floor garret in Paris, to a loft apartment in Soho, New York, plus boltholes in Adelaide and Melbourne, acclaimed contemporary artist, Marion Borgelt has lived in many places over the years. But it's at her Potts Point apartment she's shared for 16 years with husband Leo Christie, a retired lawyer, art collector and philanthropist, that she feels completely at home. "As soon as I open the front door, kick off my shoes, sit on the rug, and look out over the leafy tree tops, I feel relaxed – it's like being in another world," says Borgelt.
Life was very different in New York and Paris. She recalls arriving in New York in 1979 and renting a room with an Italian family in Brooklyn which took more than two hours travelling each way on the subway to her Manhattan art school. "After three months I moved into a loft in a building built in 1910 located in the Flatiron District – it was cold and draughty but from there I could walk to the school," she says. "In Paris, my studio and living quarters were on the fourth floor – no lifts and only a very narrow spiral staircase so I had to lower my paintings out the window on ropes, but it was well situated, near the Sorbonne.''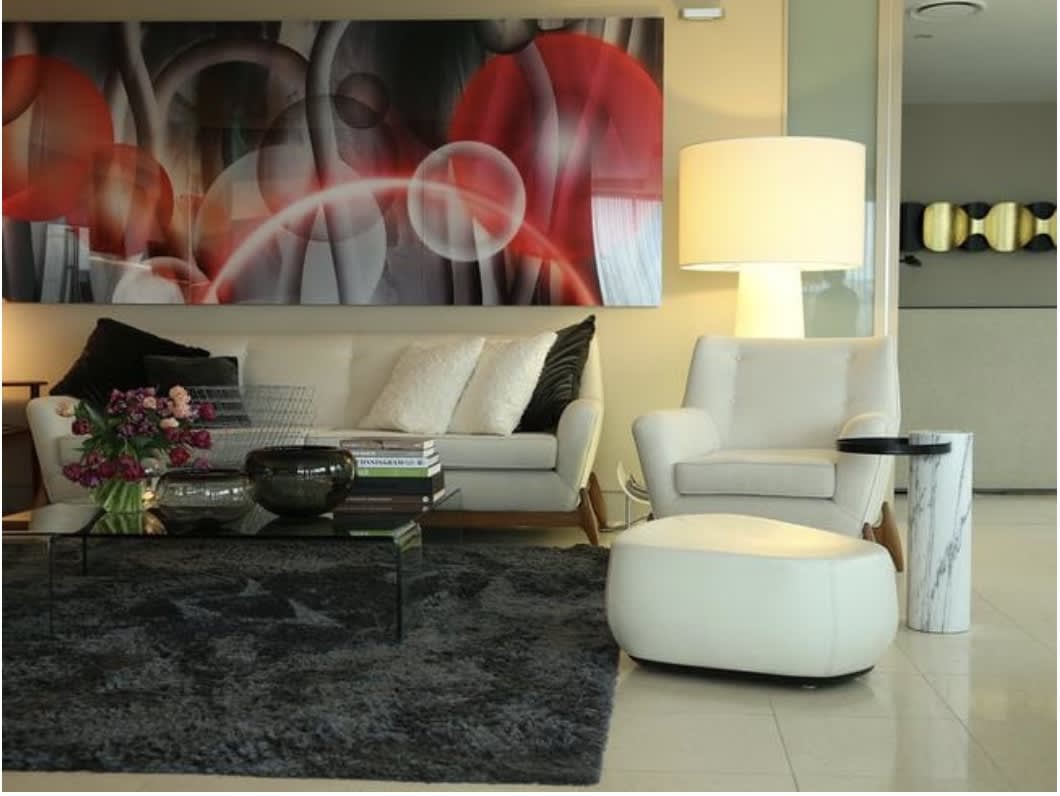 Marion Borgelt's lounge room with her own large artwork, left. Picture: Jane Dempster/The Australian
The much-awarded visual artist is known for her evocative installations and bold eclectic artworks that intrigue and enchant and star in national and international museums, private collections and public places. Think Musical Spheres in Sydney's Angel Place where historic Palings music store once stood – it features a kinetic display of coloured discs that echo the action of hammers hitting piano strings. Then there's Candescent Moon, in 101 Collins St, Melbourne, that suggests universal themes of sequences, celestial orders and lunar rhythms.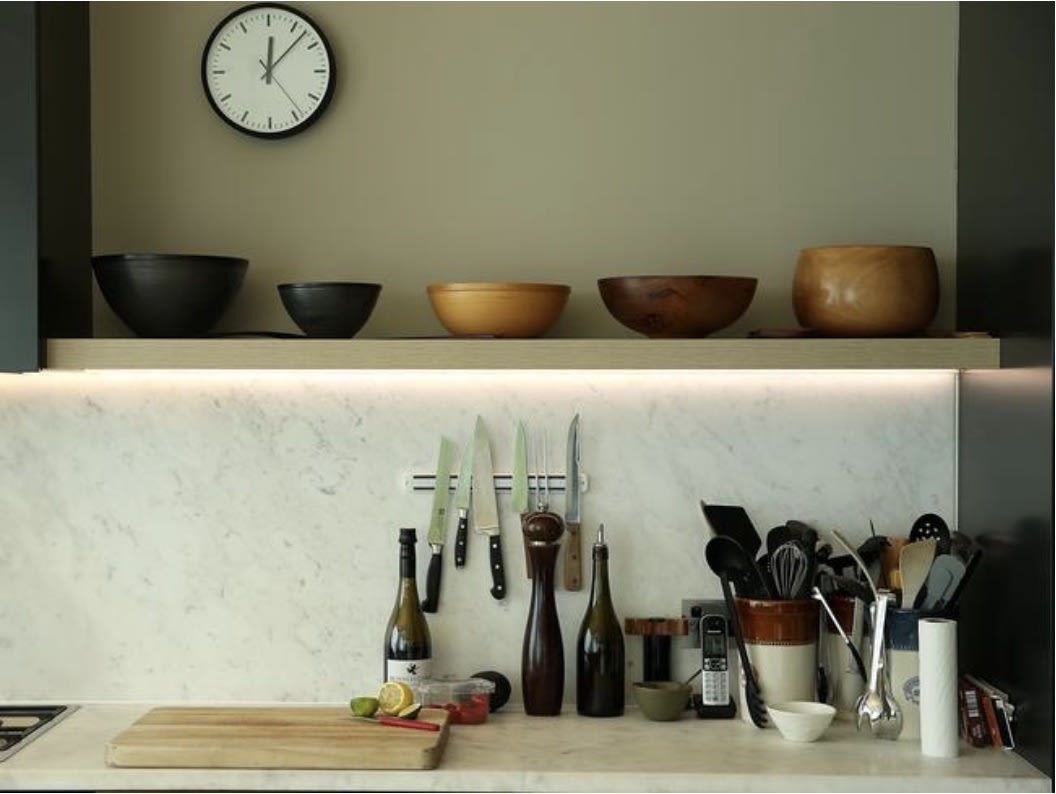 Some of Marion Borgelt's favourite pieces: bowls from around the world. Picture: Jane Dempster/The Australian
Borgelt often works six days a week but Sunday is when she stops and enjoys her home. The third-floor apartment, is minimalistic and ordered, while bold artwork beckons you to pause and admire. She describes it as "pared back to essential items so that the whole space reads as a sculptural experience of furniture, artworks and objects".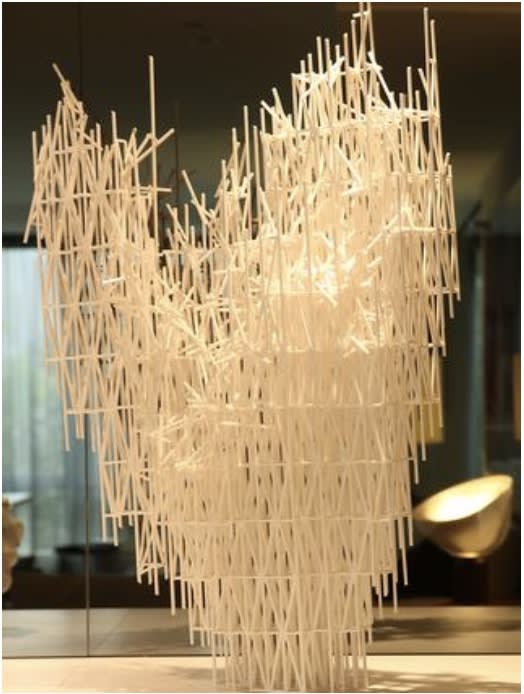 A sculpture by Kirsten Pieterse. Picture: Jane Dempster/The Australian.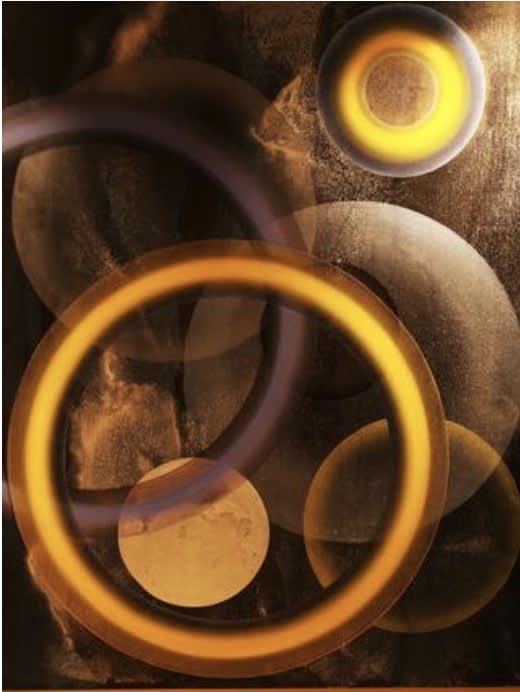 Marion Borgelt's own painting. Picture: Jane Dempster/The Australian.
Striking artworks include a Daniel Templeman sculpture and architectural works by Scottish sculptor Kirsteen Pieterse plus some of Borgelt's own works. As varied as they are, they sing together.
The apartment dimensions suit the artwork which blends with the mix of contemporary and Danish furniture collected by Christie. Architect and interior designer Sue Carr worked on creating a relaxed look with a predominantly black and white decor. "I think there's a timeless element to our home as well as an elegance and simplicity," she says.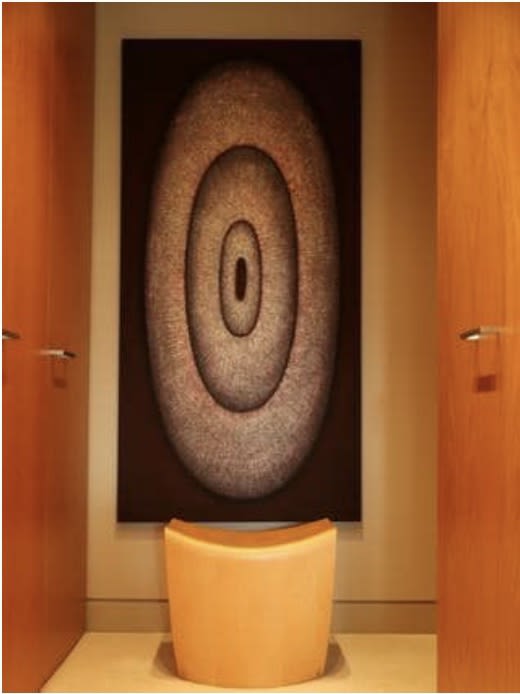 Marion Borgelt's painting. Picture: Jane Dempster/The Australian.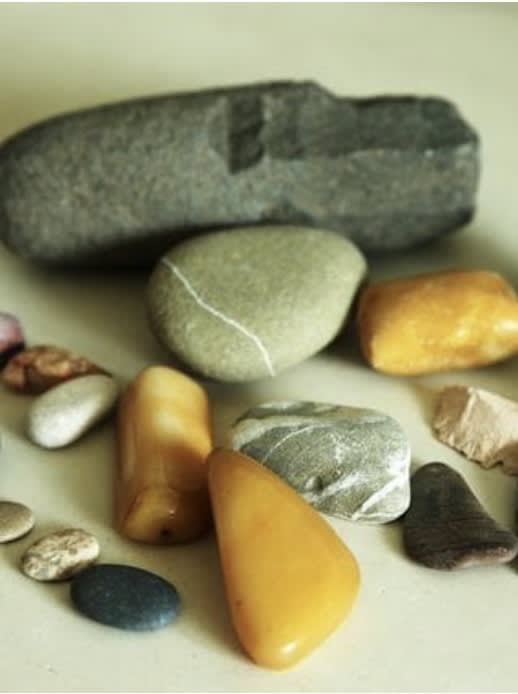 Some of the small stones collected from several countries. Picture: Jane Dempster/The Australian.
Treasured items from their many travels include a collection of small stones from Jordan, Oman, Turkey, Italy, China and France. "Much of my art is influenced by my travels and so I've developed a habit of picking up little mementos that symbolise the textures, colours and the natural environment," she says.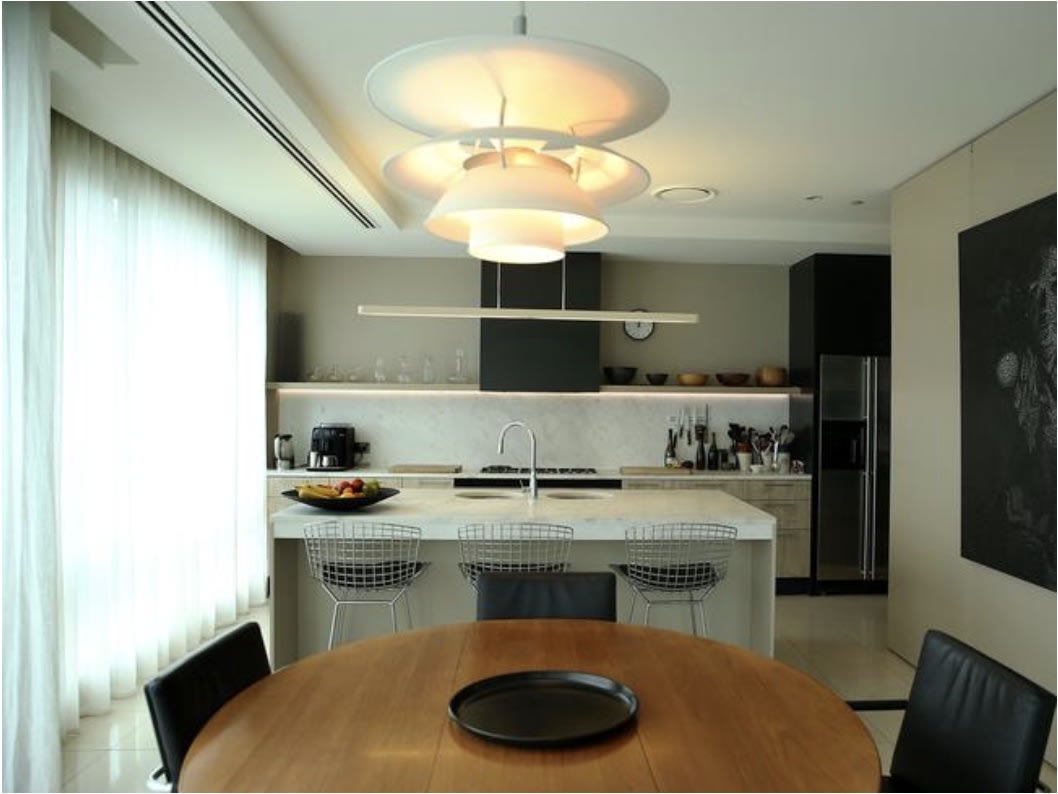 Marion Borgelt's kitchen. Picture: Jane Dempster/The Australian
The open-plan kitchen adjoins the dining area where they love to entertain and enjoy regular book-club dinners that prompt lively discussions.
Currently Borgelt is exhibiting in the Know My Name: Australian Women Artists 1900 to Now at the National Gallery of Australia until January 26, 2022. Her Sydney representative, Gallery Sally Dan-Cuthbert, will exhibit her most recent work in an important solo exhibition in February 2022 as part of the Melbourne Art Fair.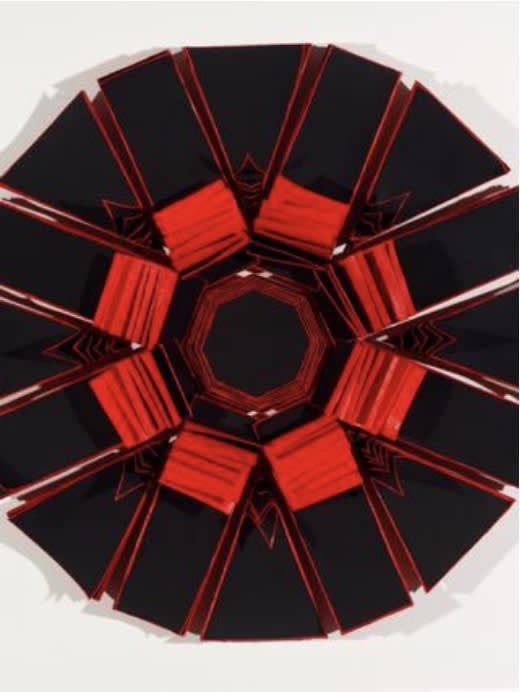 Part of Marion Borgelt's Bloodlight Stack: 126 leaves 2007 paper, acrylic, perspex box, wood, pins. Donated through the Australian Government's Cultural Gifts Program, 2009.
A country girl from Nhill in the Wimmera, Borgelt's work explores the connection between man-made culture and nature, moving between painting, sculpture and large public installations. "Much of my sculptural work focuses on undulating forms of waves, rhythms, dark/light relationships and the polarities of presence and absence, whereas my paintings show a dream world layering of shapes and forms expressing movement and shifting parameters," she says.
Borgelt's second home is her spacious all-white Waterloo studio, where she has many projects on the go, working with mediums as varied as shaped canvases, bent timber, carved stone and organic matter. Like her art, her home and studio create a perfect balance.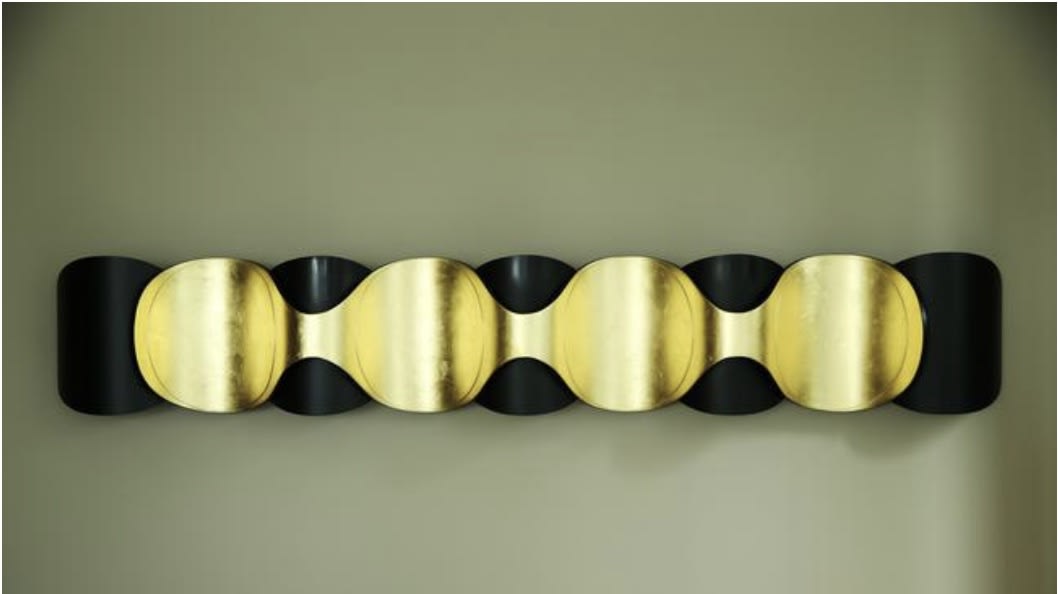 Marion Borgelt's own sculpture Lunar Swell. Picture: Jane Dempster/The Australian