The Australian artist fuses organic and inorganic materials to create artworks that reflect a diverse subject matter and personal journey.
With a practice that spans subject matter such as life cycles, cosmology, optics, phenomenology, flux and impermanence, Sydney-based artist Marion Borgelt has been creating works for over forty years.
After winning the 1977 Harry P Gill Memorial Medal in her final year at the SA School of Art, Borgelt went on to receive a Peter Brown Memorial Travelling Art Scholarship for study in New York (1979–80). For the Australian artist, this shift provided a critical change from her childhood growing up in regional Victoria, in a small town called Nhill.
"When I first moved to New York, I found the contrast between my farm background, where the horizon was always dominant, and the immense verticality of my new home to be overwhelming," Borgelt recalls. "This required a re-evaluation of how I saw art and what was the main source of artistic expression."
Here, Borgelt embarked on a time of rapid change, absorbing new concepts and forming innovative ideas based on the energy and vitality of the city. "I made paintings that were expressionistic and semi-figurative, influenced by my studies of the abstract expressionists whose work I loved at that time," she adds.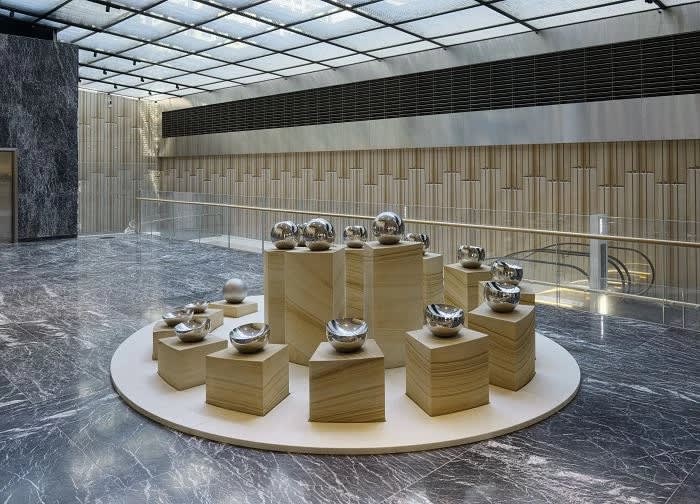 Marion Borgelt, Time and Tide (wait for no man), Sydney, Australia. Courtesy Gallery Sally Dan-Cuthbert
Almost ten years later, in 1989, Borgelt accepted another fellowship, this time in Paris from the French Government. This move also provided a shift in thinking, with the artist's work becoming more cerebral and intellectual. "I developed a fascination in signs, symbols and language, being influenced by a city whose literary history was so important."
After living in country Australia, these fellowships allowed for a pause and shift in Borgelt's thinking, enabling significant development on her previously time-based practice — the change of seasons and continual cycle so crucial to the farm life the artist grew up around. Adding to this, the vastness of metropolises like New York and Paris was a reminder of humankind as tiny units of matter, yet full of "intelligence, determination, and creativity."
"As I grew older, there was a gradual awakening of how life is — everything changes, and yet everything stays the same," Borgelt muses. "The flux and impermanence is actually a permanent aspect of life. As Heraclitus said, 'The only thing that is constant is change.'"
Her deep fascination with the natural is reflected in the artist's extensive range of mediums, including organic materials such as beeswax, wood, stone, and even plantings, eventually adding to these inorganic substances such as metals and glass. Borgelt explains, "The choice of materials is intrinsic to the concept behind the work. The two go hand in hand and are inseparable, both influencing each other."
The materials give the artworks an almost star-like appearance; reflective and geometric, the forms offer a hypnotic sense of illusion that continues themes of time, cycles, and astronomy. Circles and spheres are installed in repetitive series across walls, hung from the ceiling, and mounted in the environment.
Within her oeuvre, Borgelt's artworks span studio works, public sculptures, pieces straddling painting and sculpture, and site-specific installations. The artist shares that she considers her process and concepts for each one. "If it is a site-specific work, then there are key factors at play such as scale, indoor/outdoor, budget, time duration, that determine the approach I will take. Site-specific commissioned works often give me the opportunity to explore a wider range of ideas and approaches outside my studio artistic language."
Marion Borgelt, Musical Spheres, 2021, Crankshaft mechanisms of machined and laser cut aluminium parts, Powder Coated and Fibreglass discs, polyurethane painted, 7.2m W x 4.9m L x 6.5m H. Angel Place, 123 Pitt St. Sydney. Client: AMP Capital Investors Ltd. Courtesy Gallery Sally Dan-Cuthbert
One recent public artwork, Musical Spheres, 2021, for AMP Capital in Sydney, delves into this breath of scope through a kinetic installation comprising mechanized, machined and laser cut aluminum parts and powder coated and fiberglass red, orange, and pink discs suspended from the ceiling.
Referencing the shared history of Angel Place as a musical precinct, Musical Spheres echoes "the action of hammers hitting piano strings and the movement of the musical notes on a score." "This kinetic work is a dynamic field of contrapuntal colored musical forms," Borgelt explains. "The circular forms slowly move up and down, playing the air, complementing the constant movement of people in and out of the space; referencing music through movement rather than sound."
Interestingly, for the artist the process of creating private commissions and public artworks vastly differs from her studio practice which is much more exploratory and experimental. Her latest exhibition for Gallery Sally Dan-Cuthbert, Silent Symphony (May 27 – June 27, 2021), revealed a few firsts: first bronze work, first outdoor work, and first time using horizontal elements in major wall works.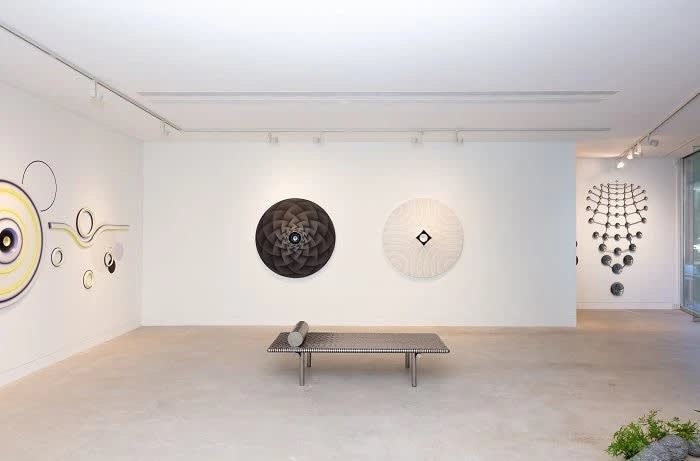 Marion Borgelt Solo Exhibition, Silent Symphony. Photo, Simon Hewson, Courtesy Gallery Sally Dan-Cuthbert
"Silent Symphony showcased a wide selection of mediums and intensely focused on strong singular works that paid tribute to nature's exquisite designs by referencing fundamental archetypal patterns and forms," Borgelt says. "The different materials of each piece considered how their innate properties expressed ideas of orbital motions of time and change, about light and physics, mathematics, design and rhythm — underlining the elementary connections of all things."
Featuring her familiar motifs of circles, spheres, and spirals, Borgelt expresses personal interpretations of the natural world through a spiral arrangement of granite boulders with green foliage spilling from their hollowed interiors; a suite of timber forms coated in electroplated aluminum leaf, morphing from closed and small into a large, open, flat disc; or two-dimensional pastel and pigment work on handmade paper, textural and organic.
Borgelt was also recently included in the National Gallery of Australia's exhibition, Know My Name, a gallery-wide push to include more women artists in their collection and exhibitions. The artist reflects on these efforts, "There are vast changes occurring in the perception of woman artists in this country at the present time. In my working career of over 40 years, I have seen changes in attitudes towards women artists reflected in broader subject matter, age of the artist, prices of their work — it is still evolving, but it is a good time to be a woman artist in Australia."
In a practice that includes changing perception of time and Fluxus, the themes are as relevant now as they were when Borgelt first began her career. The artist's latest artworks continue to employ innovative materials and draw upon her desires to express a deep understanding of the natural world. By immersing in her work, the audience is invited to ignite a curiosity about the world.