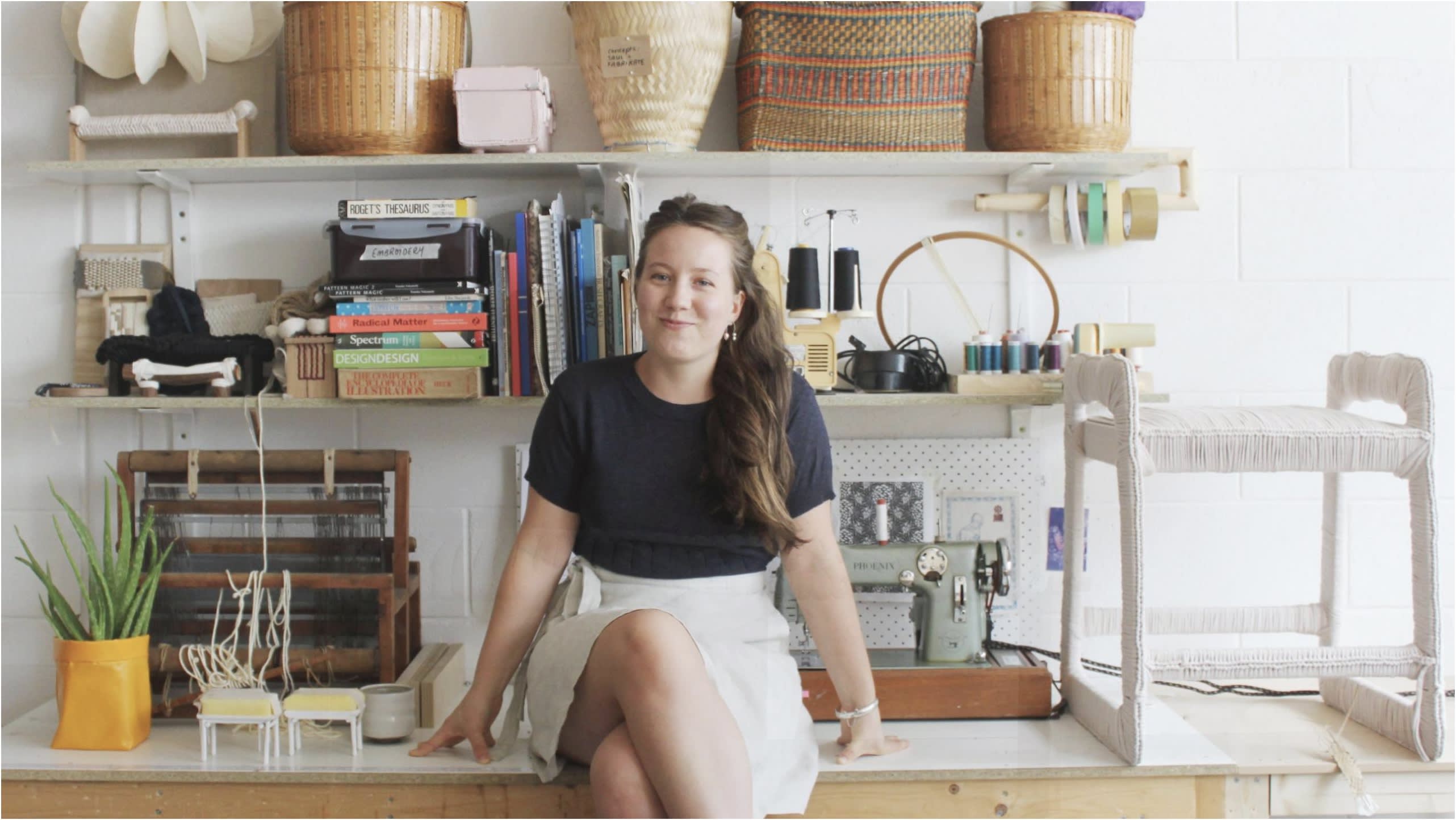 New to furniture making, designer Ivana Taylor talks about the similarities and differences of working with textiles and timber and her emerging body of work that combines the two.
Growing up as the daughter of a film and theatre costumier and surrounded by sewing machines and fabric, it is hardly surprising that Ivana Taylor describes working with textiles as 'effortless to me'. Working for a textile company in the early part of her career, she found the exploration of the more tactile and 3D and sculptural potential of fabrics exciting and a springboard to furniture design.
This led her to joining JamFactory in Adelaide as an associate. Being part of the studio that has launched the careers of many of Australia's most prominent furniture designers provided the ideal opportunity to investigate 'the beautiful world of timber'.
Taylor's initial designs explored the use of many different timber species and found the transition from textiles to timber somewhat challenging. "Textile design and furniture are similar in that both negotiate and exist for the human body" she says "But their materiality and qualities are very different. It feels second nature to transform cloth into any 3D shape, but working with timber has introduced me to a whole new set of lessons on how to work with a rigid, strong and 'living' material. Timber has also taught me more about the principles of structural integrity so as to support, not just dress, the human body".
Taylor has also had to learn how to adapt her construction skills from connecting fabric using stitches to the diverse world of timber joinery. "The machining of timber has been a learning curve for me" she says of this experience "to transform a raw length into a dressed piece that can be used for furniture making involves simple but multiple steps…I'm gaining an understanding of everything from detecting grainlines to rectifying imperfections to balancing the aesthetic, function and structure of the finished piece". For Taylor furniture making has become a multi-sensory experience "I've learned to love the loud whir, hum and slicing sounds of the thicknesser, the jointer and the saw".
American hardwood species are no strangers to the JamFactory. Alumni Jon Goulder and Anne-Claire Petre have both collaborated with the American Hardwood Export Council to design pieces from diverse species including American cherry, red oak and tulipwood. To date, Taylor has primarily worked with American white ash. Like other American species, part of the attraction is the easy workability and the stability of the timber. However, listening to Taylor describe this particular species, it is clear that her enthusiasm comes from the familiar codes of fabric being carried through a completely different material. "What I get from American ash is a beauty that contributes to my design dialogue of creating domestic furniture pieces that are comfortable but also visually and texturally soothing and intriguing….it has an exquisite array of neutral colours from grey to caramel to white…every piece is unique in it's structure and look, just like the textiles I use. The grain of the timber is like the warp of a woven textile and the imperfect knots are like slubs in piece of fabric".
Now hooked, Taylor is developing a new body of work based on her Marci stool and benches. The range explores the experience of ritual in assembling, rearranging and dissembling objects. The design is composed of four elements including a timber frame and dowels and a cushion and woven textile piece. The latter is designed and woven by her sister, Xenia Taylor (also a textile designer) and has been created to soften the structure of the timber and balance the natural tones and textures. Inspired by furniture she observed being created by nomadic tribes in Gujarat, India, when attending a textile course run by respected textile artist Liz Williamson, the range is named after Taylor's mother who she credits for her career success to date: "She taught me that no matter how challenging or overwhelming a task is in the world of design and making, when you have fun, brilliant design solutions come flying your way. The Marci design solution came to me in a moment of fun".
Beau Chair in American white ash
Designed to add soft, tactile comfort and playfulness to the home, the Beau Stool distils the process, texture and aesthetic qualities of a combination of the Bound Bench and Bound Stool by Taylor. Two cushions, one wool and one linen, edged with flat piped seams, are bound to a white ash stool frame, using knotting. The repeated wrapping of the knots functions as a glue-less and metal-free fastening to the stool and visually contorts the cushions into a soft, chunky bow-like expression that gently hugs and supports the sitter. The design has evolved from an enthusiasm for design for disassembly, using simple knotting techniques to attach upholstery without toxic adhesives and metal components. It allows both the tactility of the textile upholstery and the strong elegant straight grain of the white ash timber stool to be appreciated in their own right or together.
Bound Bench
In the Bound Bench, wood and textiles are entwined to form a tactile and intriguing seat that amplifies the visual effects and physicality of texture. Designed for public and domestic settings, the thick tubular upholstery wraps and knots around the bench to form a luscious knotty covering. The chain, formed naturally by the knotting, has been manipulated into a curve to signify two separate areas for people to sit on. Combining the softness of the linen outer and the squish of a foam core, the tubes smother and soften the strength and rigidity of the white ash bench.