Currently on till 19 Spetember, 2021
About the exhibition
In an everchanging world presented with many challenges, how can art and design influence change and contribute to a positive future? We Change the World is an exhibition for all ages that shares the many different ways that artists and designers can provoke change through their work, positioning the idea of change as a creative gesture, large or small, that prompts us to question our current world and contribute to an optimistic future.
We Change the World shares the work of prominent contemporary Australian and international artists and designers drawn from the NGV Collection, including works new to the Collection and on display for the first time. It considers issues such as the climate emergency, entrenched inequalities and humanitarian injustices, while also foregrounding the importance of identity, culture and expression to the wellbeing of communities and individuals.
Featuring interactive activities and digital resources that invite audiences to directly engage with the themes of the exhibition, We Change the World challenges us all to consider our own potential for change, empowering not only young people but those of all ages to be creative, to celebrate uniqueness, and to speak up or think differently. With themes spanning environment and place, activism and protest, celebrating the everyday, and shaping the future, the exhibition also includes online learning resources for schools addressing multiple learning areas, capabilities and cross-curriculum priorities, as well as adult learning, events and digital content.
Jangarra armchair

2017
Artists and designers from the Mangkaja Arts Resource Agency in Fitzroy Crossing, Western Australia, together with Thirroul-based designer Trent Jansen, designed and constructed Jangarra armchair. The work is an embodiment of a cautionary tale told to children in the desert region around Fitzroy Crossing. Jangarra, or the 'man-killer', is a big hairy man who hides behind large ant hills waiting to catch unsuspecting children. The human hair string that lends Jangarra its eerie presence was woven by Yangkarni Penny K-Iyons and Myarn Lawford, the last two remaining women in the Community able to practice and teach this unique skill. Jangarra armchair offers an example of how creative collaboration across cultures and communities can foster new relationships, reinvigorate old production techniques and enrich our sense of shared place and history.
IN PURSUIT OF VENUS

2015
Lisa Reihana's live-action video is a reclamation of culture, inspired by the colonial nineteenth-century panoramic wallpaper, Les Sauvages de la Mer Pacifique (1804–05), produced by entrepreneur Joseph Dufour in Neoclassical France. Reihana employs twenty-first-century digital technologies to animate and reclaim the wallpaper, re-examining its conceptual framework and challenging historical and contemporary stereotypes. She creates a vast panoramic field populated by myriad First Nations people from throughout the Pacific and New Zealand. Where Les Sauvages was a fantasy that reflected the European obsession with ancient Greece, in Pursuit of Venus is enlivened with the sights and sounds of dance and cultural ceremonies enacted by Mäori and Pacific Islander performers.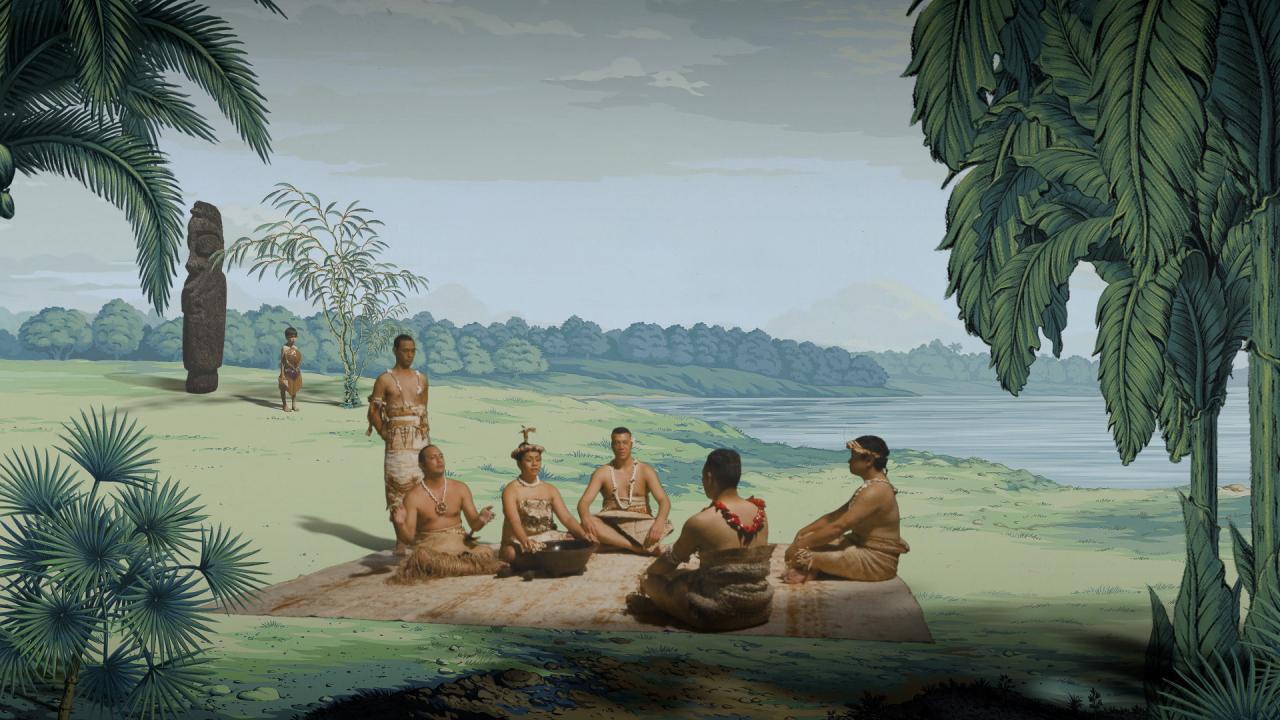 June 1, 2021