With his new show, Un/constrained, the multidisciplinary artist and designer is challenging your expectations.
If you've been tapped into Australian fashion over the past couple of years, you'll be familiar with the name Jordan Gogos. Under his Iordanes Spyridon Gogos label, the multidisciplinary artist and designer has thoughtfully carved out a space in the local industry with his technicolour, euphoric and subversive approach that centres community and collaboration. His most recent presentation at Afterpay Australian Fashion Week was a riotous, joyful show with a larger-than-life set at the Powerhouse Museum.
A graduate of Parsons School of Design in New York, in addition to his fashion pursuits, Gogos also specialises in set design and sculpture, creating functional art pieces that complicate our understanding of objects as furniture. For his new show, Un/constrained, he brings together his wall textiles (pieces that you'll be familiar with if you've seen his designs) with the geometric, functional art work and offers an opportunity for people to see his work in a new context.
"I love having the work in a gallery because it provides a 'pause' — a point of reflection of what I'm actually doing or seeking through art," he tells InStyle. "I feel like fashion is so focused on the larger picture of what you're doing in the industry, materiality isn't really something that people deep dive into and really unpick the happenings of material the way I want to, to really ignite excitement of repurposing material. I'm excited for people to see a different side of my practice!"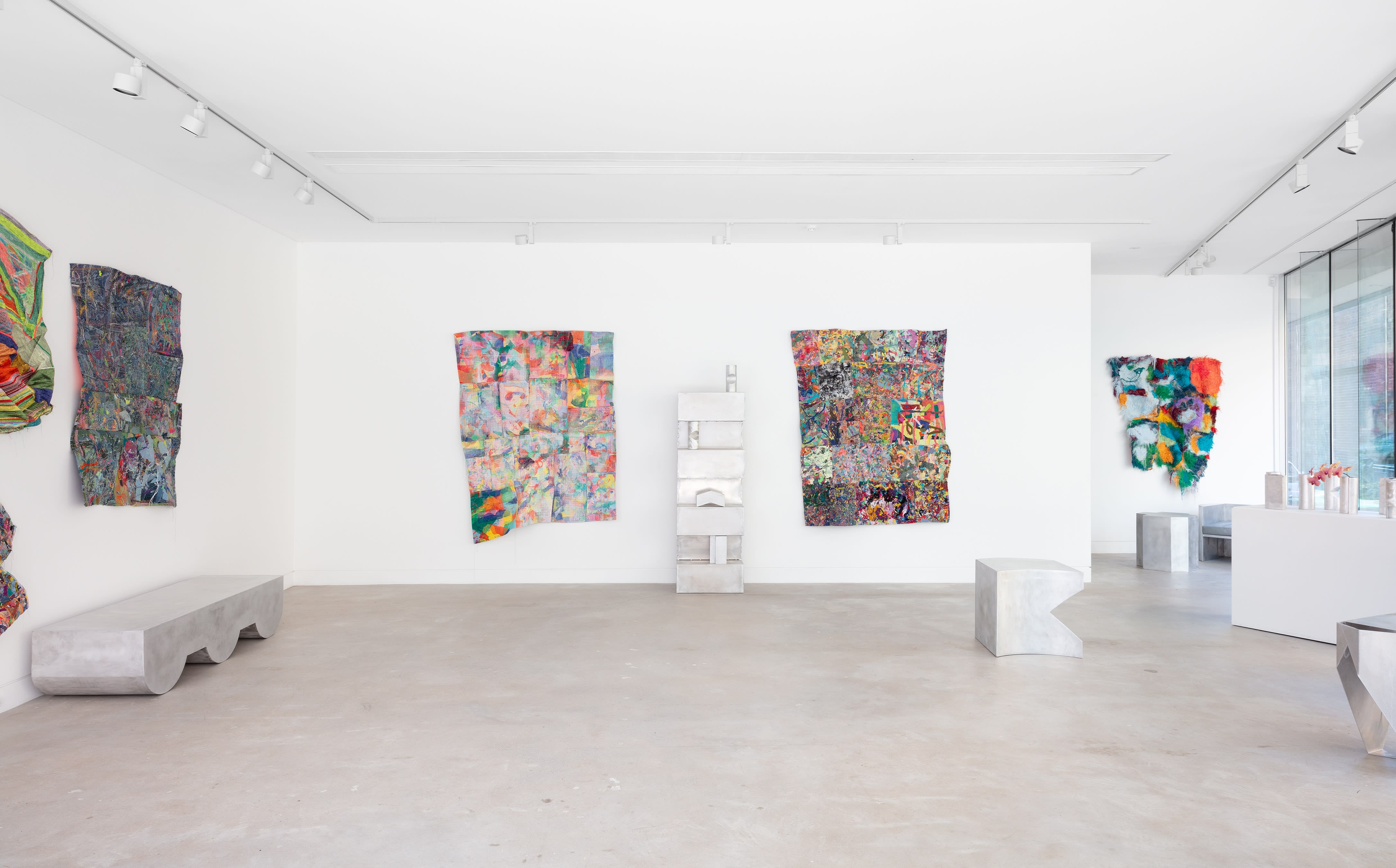 Taking place at Gallery Sally Dan-Cuthbert in Sydney, the show is also a result of juxtaposing processes. While the wall art comprises intricate mixed media artworks he made in his studio at the Powerhouse, guided by nothing but intuition and chance, the sculptural, functional pieces are more considered. Made from sheets of aluminium, folded and welded into a shape specifically, they were inspired by Gogos' discomfort with the AI search mobilities of the iPhone. "The idea that you can search in your photos 'table' and… tables appeared freaked me out?!" he explains. "I've always found the categorisation/value of things something I want to push against." He pondered what the world would look like if for every single item we procured, we were told exactly what it is and how we're meant to use it — "how boring"!
So Gogos' functional art is meant to disrupt our thought process, where a table isn't necessarily a table and a chair isn't just a chair. "I wanted to create things that existed, were functional, yet almost created this human glitch when you go to pinpoint it… like, a 'thingamabob'. The word sings so loud to me as it's the attempt of the human brain to identify what something is yet it glitches, and you kind of make up the meaning of something almost like this 'other' category of things."
He goes on to recall early days where he would try get his work into furniture stores and they struggled to place the items because of how they resisted categorisation. "Their feedback was, 'this isn't tall enough to be a table and isn't low enough to be a coffee table. What is it? How do we sell this to customers… is it at a plinth?' he says. " Over the past few years, the objects have been anything but been used conventionally. They're continually being turned upside down and morphed into new meanings or contexts by the user. To a kid, a table isn't just a table, it's a cubby house, it's where they eat, it's a platform they get up and dance on until they're told 'it's not a place you can dance!'. You really can make/use the functional art objects whatever and however you want — they're boundless."


Un/constrained should inspire audiences to get creative. "I just want it to resonate with the imaginative," Gogos concludes. "Whatever that looks or feels like."
Un/constrained by Jordan Gogos opens at Gallery Sally Dan-Cuthbert tonight and runs through til August 28.